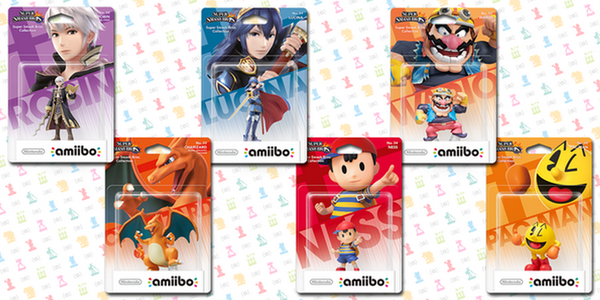 Last week's Nintendo Direct broadcasts brought a host of fresh details on amiibo, taking us beyond the launch period's tales of Super Smash Bros. support, relatively minor features in Hyrule Warriors and Mario Kart 8, and the ongoing shenanigans of painfully limited stock. Well, the latter may be ongoing, though we hope that as we move through 2015 Nintendo will be able to meet demand a little better with its upcoming figures.
To kick us off we had the reveal of a fourth wave of amiibo for Smash Bros. - Robin, Lucina, Pac-Man, Wario, Ness, and Charizard - that'll arrive in April; there are reasonable odds that the Ness figurine will be tougher to find than Mario's credentials as a plumber. The batch of new figures was expanded further by the upcoming Super Mario range, which will be heavily marketed and released with Mario Party 10 - it'll feature Mario, Luigi, Peach, Yoshi, Bowser, and Toad, with the latter being the only brand new addition; these designs are free-standing in their poses, though, without plastic supports.
So, those are the new toys. In terms of Wii U game compatibility we saw the Western confirmation of abilities and items available with three toys in Kirby and the Rainbow Curse, the Toad-only extra - in which you search for a pixelated Toad - in Captain Toad: Treasure Tracker and various features within Mario Party 10. In the latter game some amiibo will have read and write features, with the Super Mario range - or their Smash Bros. equivalents - unlocking special boards and allowing characters to save and use one item per round.
In a Direct that was focused on the New Nintendo 3DS, for large spells, there was naturally a push to promote the arrival of amiibo support on the portable in the West - it's already been happening in Japan. There'll be a Super Smash Bros. for Nintendo 3DS update in February that will give amiibo the same features as on Wii U, while Ace Combat Assault Horizon Legacy+ (say that quickly three times) will have unlockable plane skins; it should be noted, however, that those skins can be unlocked in the game proper. Slightly neater is the Code Name S.T.E.A.M feature that will allow Fire Emblem amiibo to be scanned in and then used as playable characters, which is quirky but looks rather fun.
That gives us a lot of amiibo additions in the next few months, then, and attention will turn to how obtainable these figures will be at retail and how useful and fun the implementation is. The arrival of Mario Party 10 will also raise the issue of limited save data for the first time - each toy can only have one set of data, so if you want to use (for example) your previously saved Mario Smash Bros. toy for read / write in Mario Party 10 you'll need to wipe its data to do so. In an ideal world Nintendo will offer simple data back-up options in games to let you swap data about between toys - Smash Bros. already does this behind the scenes, as when a scan goes awry it reverts to an automatic back-up; that would potentially mean some buying less toys, though, so Nintendo may decide to hold back on giving us the option.
We'll see on that, while we'll also get into the realm of potential consumer confusion; to be fair to Nintendo, its official website and compatibility chart tries to tackle this.
So, amiibo is about to get busy, but we want to know what you think before we look at it more closely in a wordy article. Are you excited about what amiibo's bringing in early 2015? Confused? Indifferent?
Let us know in the poll and comments below.