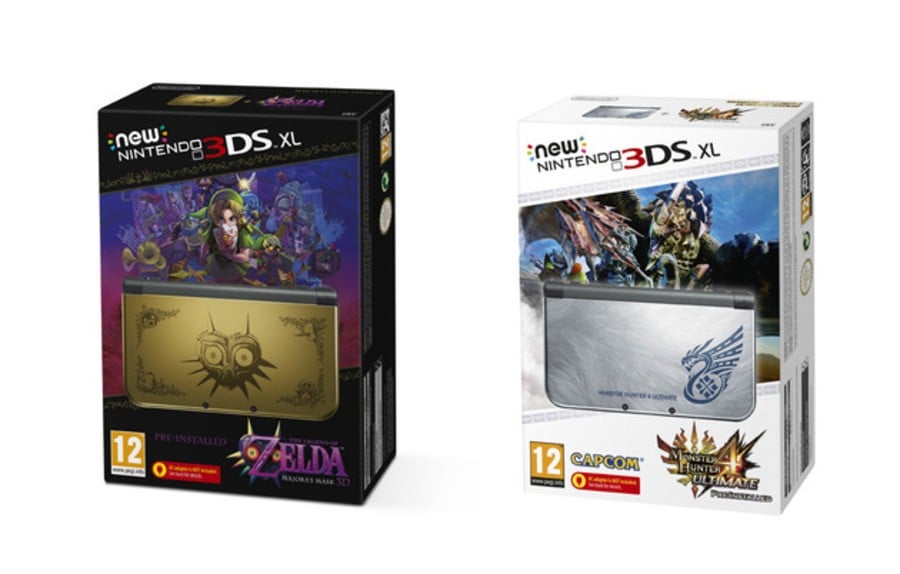 Update:
The Majora's Mask 3D New Nintendo 3DS bundle is now available for pre-order at Best Buy for $199.99 (thanks to Hippoeater for the heads up).
Original Article:
Since today's Nintendo Direct festivities we've had some requests to keep a beady eye out for New Nintendo 3DS pre-order opportunities, and we're only too happy to oblige. Having done an early sweep of retailers in the US, Canada and the UK, various options are already emerging.
In the US only one of the biggest retailers is offering pre-orders at the time of writing, and that's GameStop - that link will take you to a page with the Red, Black and Monster Hunter 4 Ultimate XL bundles; it's $199.99 for the standard models and $229.99 for the MH4U bundle.
It's exciting news for Canadian gamers, however, as EB Games has those models and the Majora's Mask 3D option. It's $229.99 for the standard models and - amazingly - the Majora's Mask bundle (at the time of writing) and $259.99 for the MH4U set.
In the UK, GAME has the country's four standard models - white or black smaller models, along with metallic blue and metallic black XL systems. These are £149.99 for small models and £179.99 for the XL systems.
As mentioned above we did check around other major retailers in these countries, too, but it's clearly taking time for pre-orders to open properly. We'll keep an eye out for updates.
Are any of you planning to rush in and pre-order now? Let us know!