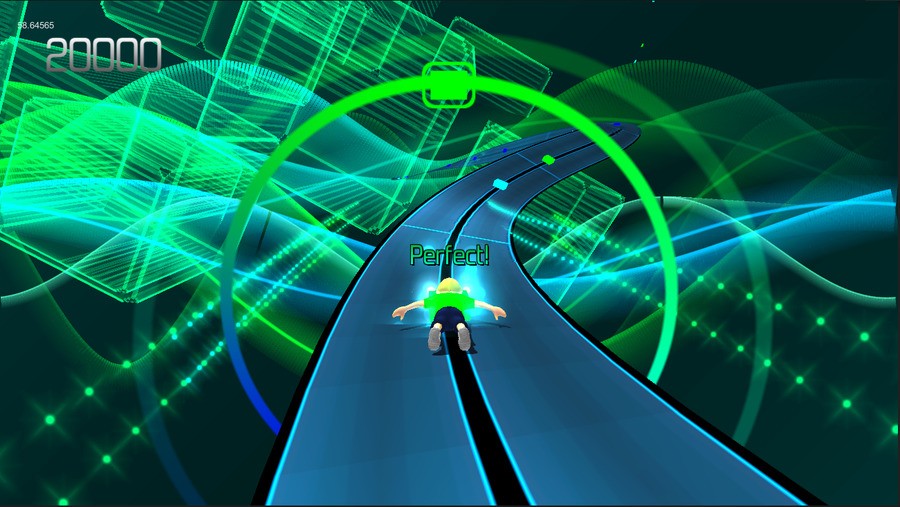 Crystalline Green Ltd. has revealed a new Wii U eShop exclusive to Nintendo Life, and today we get to share it with you.
Project Colour Park (working title) is an unusual game for the Wii U which has you flying along a set course coming into contact with brightly coloured cuboids at various intervals. Whilst this doesn't sound particularly new or exciting, it's the control method that really lends itself to making this a unique experience.
Each block has a colour, and you have access to a spectrum around your character where you can highlight any colour within said spectrum by rotating your Wii remote. The colour you pick is dependant on which way and how far your tilt your controller, and your score depends on how accurately you select the colour you pass through on the spectrum.
The game has two modes; rhythm and race. Rhythm is what we see in the current screenshots, you will collide with blocks in time with the music and will be rewarded with points based on your accuracy. Race is similar, but blocks will issue you with power-ups and speed boosts. Both modes will also support four player simultaneous gameplay.
It's early in development right now but Project Colour Park is already shaping up to be one of the most unique indie games we've seen on the eShop so far. The fast-paced gameplay suggests a reliance on muscle memory in order to get the colours just right and hit a perfect score. It is in a sense a rhythm game that relays less on your sense of rhythm and more on your ability to process more finite movements than a simple button press or a flick on a plastic guitar.
You can see the game in motion in the trailer below. Project Colour Park is planned to be released on the North American and European Wii U eShop.