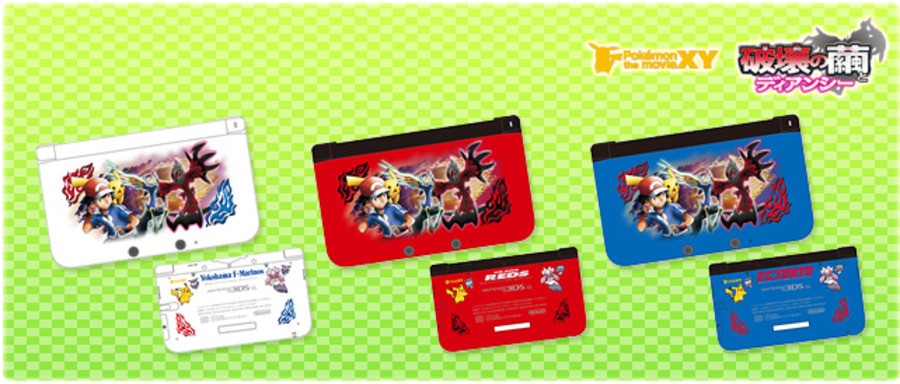 Supporters of Japanese football who also happen to be obsessed with Pokémon are in for a special treat with a very exclusive giveaway. Nintendo are giving fans the chance to score one of three limited edition Pokémon-themed 3DS XL systems at Yokohama F. Marinos, Urawa Red Diamonds, and FC Tokyo J-League matches – the number of systems distributed at each game depends on the home side's score. Each system features identical Pokémon artwork with the respective club name of the home side on the base.
Fans who attend these matches will not only be in the running for one of these extremely rare 3DS XL models, but they will also receive special "Pikachu-playing-soccer" Pokémon cards – and even be able to meet a life size Pikachu. This special giveaway follows last month's announcement that Pikachu and 10 other Pokémon would team up with Adidas – the apparel sponsor of the Japan team at the 2014 FIFA World Cup – as the official mascot.
Alongside the release of Nintendo Pocket Football Club, this giveaway exclusive to the J-League comes as a timely reminder of just how much Nintendo loves football and other sports such as baseball. In a recent Iwata Asks, Software Developer Sonobe-san reinforced this – referencing the J-League as inspiring the creation of the original Nintendo Pocket Football Club for Game Boy Advance.
After making baseball and horse racing games, I was looking for ideas as to what to do next. It was just at that point that the J-League started in Japan, and people were getting really excited about football. I started watching football games, and people were expecting me to come up with a football version of Best Play Pro Baseball.
It's also common knowledge Nintendo of America has ownership of a professional baseball team – the Seattle Mariners.
So, what do you think of these J-League exclusive Pokémon-themed 3DS XL systems? If you want to be in the running for one you'll either need to live in Japan, or fly over and see one of the three clubs in action on-field.
For Aussies, we'd add, this proposal isn't as insane as it sounds, with many down under recently jetting over to Japan to watch teams from the A-League compete against J-League sides in the 2014 AFC Champions League competition. Now there's even more incentive to make the trip.
[source tinycartridge.com, via nintendo.co.uk]