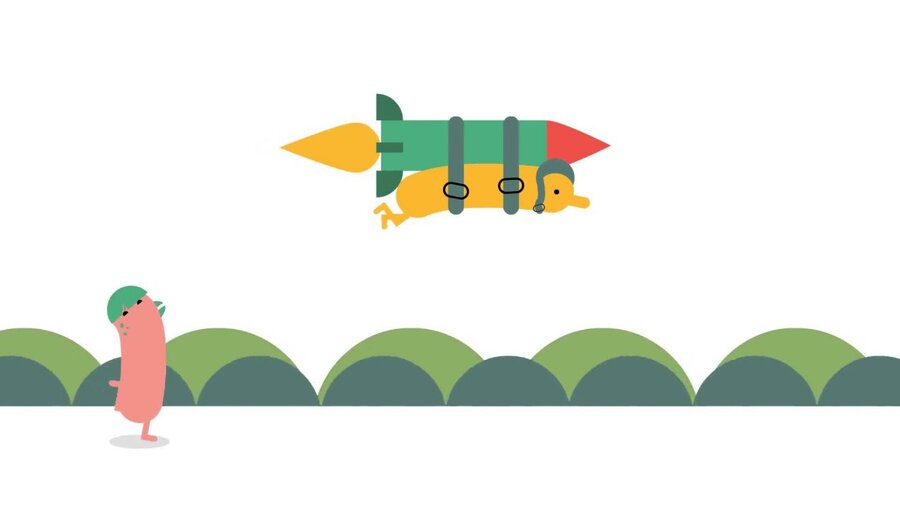 Those that follow our Wii U eShop coverage may have already read a good deal about Spin the Bottle: Bumpie's Party, the experimental title from KnapNok Games that takes the TV out of the equation, with players being assigned tasks on the GamePad which are then carried out, in a collaborative way, using Wii Remotes.
In our interview with KnapNok Games last year, we were told how a main goal of the title is to produce a modern equivalent to childhood games such as Twister, but with exercises suitable for families or grown ups of all ages. With just the GamePad screen and Wii Remotes used in various ways, it can be a difficult concept to explain, while the company has release teaser trailers — the latest of which is at the end of the article — that focus on being strange rather than showing what's actually involved. A "real" trailer is being produced, but KnapNok's Lau Korsgaard explained to Gamasutra that the responses to the teasers have been positive.
I think our teasers worked really well, and we have gotten a certain number of followers who enjoy the weirdness of them. This has made it even harder to produce our "real" trailer, with "real" people. Actually that process has been extremely hard: We didn't wanted to let the fans of our first teasers down, but we also wanted to reach out to a broader more mainstream segment. Remember, our core demographics are not NeoGAF users but tweens doing pajamas parties. I wanted something that would appeal to them which in my book were real earnest feelings of embarrassment and laughter and I felt putting too much weirdness up would create an ironic distance to the game.
In terms of a target audience, it's clear that the cheeky humour — have a good look at the character designs — is there to give grown ups a giggle, but also be clean enough for families; the gameplay itself is said to be innocent fun, too, which is important as the studio has produced risque titles in the past. Korsgaard is keen to emphasize that it should be fun for a lot of gamers.
Earnestly, we don't know how broad we will be reaching out. Our goal has been to make a game which was fun to play by everything from families to drunken college kids. We do know that there will probably be some parents, especially in US, who are put off by the suggestive visuals and the name in general, but we are cool with that. In reality the game isn't that naughty; it is only a question of frame of mind. I certainly imagine 10-12 years old play the game, for gods sake, they are playing the real spin the bottle at that age, and that game involves forced kissing!
Is this cheeky, slightly suggestive title on your radar? Let us know in the comments below.
[source gamasutra.com]