There's one game dominating the attention of a number of Nintendo Life writers right now, and that's Animal Crossing: New Leaf. The title that's already enjoyed critical and commercial success has earned the affections of plenty of 3DS owners, with its whimsical, quirky nature contributing to its irresistible charm.
One of its various neat features is the ability to take screenshots by simply pressing both shoulder buttons at any point, meaning that we can all capture fun moments with ease. We couldn't let such a feature pass without putting it to good use here on Nintendo Life, so in the first part of many, some members of the Nintendo Life team share some favourite pictures taken to date. Stay tuned, as many more members of the team have screens to show off in the coming days.
Mike Mason
Preparing for the return of the Frog Suit in Super Mario 3D World...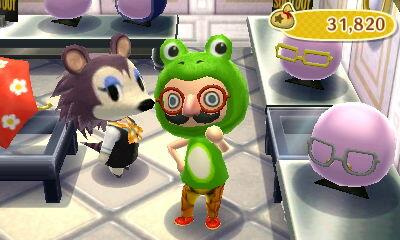 Rubbing salt in a Pitfall-based wound.
A hard won win — good work team!
Rory Cocker
Holy apple! This is why I love Animal Crossing.
I look fabulous.
Katy's town is Pitfall central!
Ron DelVillano
My gardens are growing nicely. I've got a variety of fruit to keep both my stomach and my pockets full.
I'm the kind of mayor who people like to invite into their homes. I then sleep in their beds and make them watch. They never say anything about it out of both respect and fear.
I'm also the kind of mayor who is willing to protect his citizens — even in the face of the inevitable Metroid invasion, my people will stand strong.
Morgan Sleeper
Home sweet home! I'm quite fond of my little house on the hill - it overlooks a banana grove, I can hear the waterfall from inside, and my fishing line just reaches to the ocean from my front yard!
One of the coolest things that's happened to me so far in Twinseed was this surprise birthday party my animal friends threw for me, after only two days of being mayor! N.B. Tia and Sterling playing spin the bottle.
Skype dates are for squares - midnight rendezvous with my lovely fiancée!
---
We have a lot more lovely screenshots from more Nintendo Life writers on the way, and we'll also be looking to get you, the community, involved. Until next time, keep shaking those trees!