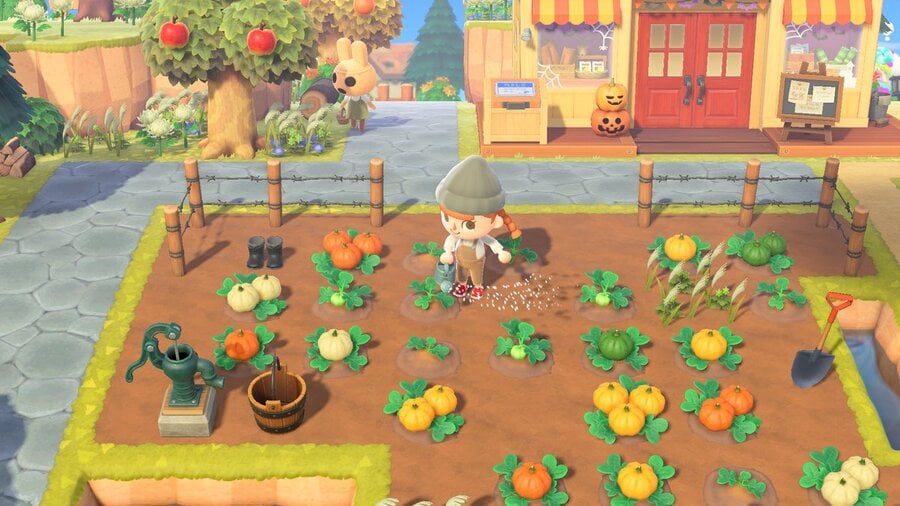 Halloween is on the way - and with the latest fall update to Animal Crossing: New Horizons, you can celebrate the entire month of October with a fresh batch of spooky pumpkin-themed crafting recipes to collect and decorate your island.
Animal Crossing: New Horizons: Complete Guide to DIY Pumpkin Crafting Recipes & Spooky Furniture
What is the pumpkin series of crafting recipes?
The pumpkin-themed crafting recipes available in the autumn update are officially called the "Spooky" series of furniture in New Horizons. These Halloween-themed items require a new crafting material that you must grow — pumpkins — the starts of which are available as of October 1st at Nook's Cranny (and from Leif).
There are four different colors of pumpkin that you can grow for crafting, each grown at random from starts: orange, green, white and yellow. While the DIY recipes themselves only call for orange-colored pumpkins, you can use the other colors to customise your crafts.
How do you get Spooky pumpkin DIY recipes?
At first, it appeared that the only way to obtain recipes to craft these pumpkin-y items would be on Halloween night, by giving candy to your fellow islanders.
However, we have recently confirmed that the Spooky pumpkin-themed recipes are actually available by traditional means, as well - including collecting them from your neighbors randomly as they craft in their homes throughout October. This is great news, as we are definitely hoping to having our islands decorated for the Halloween season and celebrate the entire month.
Of course, we still recommend stocking up on candy each day at Nook's Cranny throughout October, as you're most likely to get the Spooky recipes on Halloween night. One piece per player, per day may be purchased - but if you have multiple save files on your island, this is a great way to obtain a few extra pieces (up to eight per day, to be exact). You'll need some for crafting, as well.
Additionally, many of the items are obtainable on various days at Nook's Cranny in the seasonal item section - be sure to check there and collect as many spooky items as you can throughout the month (we've denoted the items that are available for purchase in the table below).
In the meantime, there are still plenty of fall recipes to collect and craft - check out our comprehensive guide to all of the autumn DIY recipes available this season!
Complete list of Spooky pumpkin crafting recipes
Below is a complete list of all available Spooky DIY furniture items to craft with pumpkins - as well as denotations (**) for those you can purchase directly at Timmy & Tommy's during the month of October:
Item Name
Recipe

**Spooky Candy Set

Orange Pumpkin x1
Candy x3

**Spooky Lantern Set

Orange Pumpkin x4
Clump of Weeds x4

Spooky Garland

Iron Nugget x1
Clay x1
Orange Pumpkin x1

**Spooky Table

Orange Pumpkin x14
Softwood x10

Spooky Table Setting

Iron Nugget x1
Clay x1
Orange Pumpkin x1

**Spooky Standing Lamp

Hardwood x5
Clay x1
Orange Pumpkin x3

**Spooky Lantern

**Spooky Chair

Orange Pumpkin x3
Softwood x3

**Spooky Scarecrow

Orange Pumpkin x3
Wood x4

Spooky Tower

Spooky Arch

Hardwood x10
Clay x3
Orange Pumpkin x10

Spooky Fence

Orange Pumpkin x3
Iron Nugget x5


Spooky Carriage

Wood x20
Softwood x20
Hardwood x20
Iron Nugget x10
Orange Pumpkin x30

Spooky Wand

Star Fragment x3
Spooky Lantern x1
We hope you enjoy crafting all things pumpkin this Halloween season! Have you begun decorating your island for Halloween yet? Which items are you most looking forward to crafting? Let us know in the comments below!
---
This article is part of our Animal Crossing: New Horizons walkthrough, which includes a Complete Fish List, Complete Bug List and Complete Sea Creatures List. If you're looking for specific fish or bug, we can tell you how to catch the elusive Coelacanth, Mahi-Mahi, Giant Trevally, Stringfish, Golden Trout and all the Sharks and Beetles, along with a full list of Critters leaving at the end of the month. We've also compiled a Complete Villager List and a Complete List of K.K. Slider Songs, as well as the Best Custom Design Codes and Islands we've found so far, and the best islands to visit using Dream Address Codes.
We can also help with How to Spot Redd's Fake Paintings and Statues, How to Make Bells Fast, How to Breed Flowers, How to Get more DIY Recipes, How to Upgrade Nook's Cranny, where and when to find special characters like Gulliver, Sable, Label, Wisp, Celeste, Pirate Gulliver and Jack, plus tips on using the Star Wand, Tool Ring, Rock Trick, Cutting Down and Moving Trees, using amiibo on Harv's Island, How to Back Up Your Island Data, How to Time Travel, How to Get a 5-Star Island Rating and a whole lot more.
And finally Where to Buy Animal Crossing: New Horizons on Nintendo Switch if for some reason you haven't yet picked up the game.