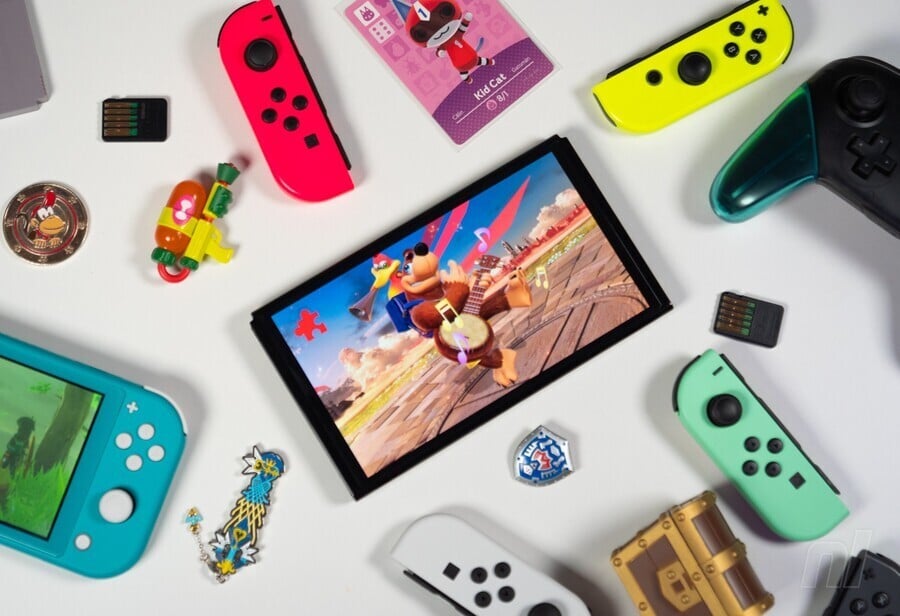 Many reading these pages have owned a Switch for nearly 5 years. We likely have extensive game libraries, a wonky Joy-Con stick or two, and a lot of fond memories. Yet the feverish attempts to wish a Switch 'Pro' into existence this year, as opposed to whenever Nintendo is good and ready to release an upgrade or successor, spoke to that desire for something shiny and a bit more powerful. While millions of Sony and Microsoft players - the lucky ones anyway - are enjoying a new generation of hardware the Switch is looking increasingly creaky, while some ports in recent times are either extremely rough or 'Cloud Versions'.
On the other hand, though, the Switch has plenty of exclusives on the way and a vibrant eShop that - once you fight through a large number of distinctly average titles - has plenty of gems. The Switch has games, just not necessarily the most technically advanced whizz-bang games.
What long term owners and fans can overlook, too, is that the Switch is still selling in terrific numbers and is still a 'hot' item ahead of the coming festive season. There's some research that points to this, and a lot of what we might take for granted is still highly desirable to plenty of people. It's interesting that people talk about Nintendo's reduced projections of over 20 million systems shipped this financial year as a negative, when they're numbers that - in the current circumstances - remain outstanding.
So, moving beyond jaded Switch veterans like us, how is such an ageing, underpowered little console still a hot product to pick up nearly 5 years after release? Here are some key strengths that still enable Nintendo's system to stand out and be a much-wanted Black Friday and festive purchase.
A Competitive Range of Prices
This might seem like an odd category to start with, but it is relevant in the context of the current circumstances on the market. We'll tackle this more in another section, but Switch is competing now in the PS5 and Xbox Series X|S space, and though both of those system have more affordable models with no disc-drive or reduced specifications, the Switch stands up pretty well in terms of price alongside them. The OLED model may be $349.99USD, but the standard model is $299.99USD (and recently had a price cut in Europe) and is featured in Black Friday bundles and deals. Then there's the Switch Lite at $199.99USD, which is sliding into a good price point for second systems, gifts for children and so on.
Apart from the Lite, too, Nintendo has successfully highlighted how a Switch purchase saves some costs in terms of extras. With so many family-oriented multiplayer games that work well with single Joy-Con controls, there's the angle of multiplayer being available out of the box with no extra controllers needed. When carefully budgeting out festive gifts, the Switch offers a good option due to its different play options and the possibility of not needing many add-ons to have fun out of the box.
The different options also mean that a number of households may end up with more than one Switch, which is pretty much a win-win situation for Nintendo.
All About That Aspirational Lifestyle
Following on from that point, Nintendo has been steadily promoting the image of Switch as a valuable contributor to daily routines, downtime with family and friends, and of course a number of 'serious' games like RPGs to sink time. This comes back to the old argument that the system is more than the sum of its parts - it's an aged tablet with detachable controllers and a dock for the TV, but Nintendo has made it a lifestyle device in a similar manner to the Wii / DS era.
We see Nintendo promote fitness and activity with the likes of Ring Fit Adventure, it's promoting solo and multiplayer mental exercise with the upcoming Big Brain Academy: Brain Vs. Brain, and of course there are varied other fitness and puzzle games available. There's a big multiplayer angle as well, Mario Party Superstars being a recent example, with marketing for over four years showing a mix of TV and portable play with friends and family. It's been established as a very social machine, an impressive PR feat when you consider its weak offering in areas like online voice chat.
There's solo play too, of course, with marketing pointing to players immersing themselves at home in a cosy seat, in front of the TV or when out and about. This is old hat to many of us, but it's an aspirational outlook that is designed to suit people's lifestyles and respect their time. It's another factor that makes it attractive to people of various types.
There Are So Many Games
It's easy to overlook for those of us that have been on the Switch train since day one, and are perhaps struggling to pick out a festive purchase (especially with the delay of Advance Wars 1+2: Re-Boot Camp) but the system has an outstanding and varied library by now. After all Mario Kart 8 Deluxe is still selling millions of copies a year, so there are still plenty of people out there discovering the racer's joys for the first time. Then there's multiple Pokemon games, let's not forget, and the ongoing charms of Animal Crossing: New Horizons.
The Switch has gradually accumulated a hefty library of exclusives, first- and third-party, and has also benefitted from a series of Wii U ports - games that not many will have played in their original form. While it's easy to focus on what Nintendo's system can't offer, such as strong versions of many big-selling multiplatform titles like Call of Duty etc, there's a lot of games unique or best-played on the Switch. Again, to those of us that have steadily accumulated a collection it's easy to brush past it, but for those coming to Switch late the variety in the library is outstanding.
So yes, when it comes down to it, the Switch sure has games.
You Can Actually Find Them In Stores
Maybe this is the big one, and a bit of a gift to Nintendo in light of unprecedented challenges over the last couple of years. Nintendo - like many entertainment companies - saw a boom in sales and profits in 2020 due to global lockdowns and a lot of people needing home entertainment. Now, in 2021 and into next year, the lingering impact of COVID remains while the technology industry also grapples with severe chip shortages and logistical challenges. It is increasingly difficult to manufacture and distribute consoles right now, with Nintendo also being affected despite its established pipelines and use of off-the-shelf and established technology.
For Sony and Microsoft, though, it's been impossible to meet demand, particularly with the PS5 and Xbox Series X models. Every one of those systems that arrives in stores is sold rapidly, and anyone seeking to buy one for the festive season will be relying on luck and good timing. The Switch OLED is rather like this in some territories and other specific bundles and colours are tricky to find, but there are standard and Lite models available with a bit of searching. While Sony and Microsoft's last-gen systems (PS4 / Xbox One) should theoretically be cheap options around, too, they feel effectively discontinued and are certainly not promoted.
It's a tough spot for Sony and Microsoft, but for Nintendo it is certainly benefitting as the most consistently available game system in stores.
Mass Appeal, The 'Blue Ocean' Etc...
To varying degrees all of the current game consoles have mass appeal - gaming has never been bigger, and it feels like we're moving to a stage where the term 'gamer' will be an irrelevance. The sheer variety of games available on different platforms means that most people are now 'gamers', whether on consoles, phones or whatever.
The strong momentum of Switch, and all of the factors highlighted above, contribute to that mass appeal that has made this a successful generation for Nintendo. The company has also used this time to build the 'brand' too, with the LEGO Mario series proving hugely popular, and of course the Mario movie coming next winter. After a challenging period in the 3DS / Wii U era, the company's brand is undoubtedly back to a high point, being readily recognised and popular.
Nintendo should, of course, not take this for granted, it'll need to earn ongoing momentum.
---
To many of us the Switch is an ageing but charming device, but that's not quite how it's perceived in the wider world. It may seem improbable to us that millions of people are still buying the Switch - in essentially its original form - in late 2021, but that is the case. Quite where the Switch and Nintendo's hardware business will be 12 months from now, though, that's anyone's guess.