The folks behind the Signature Edition series of physical Switch games are having a mighty 'Reserve Stock Sale', with plenty of older releases being sold off cheaply for a limited time.
The team tells us that for each game released, there's a consignment of reserve stock kept behind in case of missing or damaged orders. With 2019 coming to an end, though, it's time to break the poor games out of their crates and let fans have at them.
You can check out the sale on the Signature Edition website; you can get 10% off selected Signature Edition titles and adding extra games will improve the discount. You'll get 15% off two titles, 20% off three titles and 25% off four. Stock is obviously very limited, so get on this fast.

Signature Edition titles on offer include:

Aragami: Shadow Edition - (Switch)
Bomber Crew - (Switch)
Darkest Dungeon: Collector's Edition - (Switch)
For the King - (Switch)
Moonlighter - (Switch)
RIOT: Civil Unrest - (Switch)
Vaporum - (Switch)
Yonder: The Cloud Catcher Chronicles - (Switch)

Standard Versions 2-for-1 deals include:

Bomber Crew: Complete Edition (Switch)
Brawlout - (Switch)
For The King - (Switch)
Runbow - (Switch)
The Coma: Recut - (Switch)
The Count Lucanor - (Switch)
Truberbrook - (Switch)
Vaporum - (Switch)
We've had the pleasure of seeing one of these Signature Edition releases in the flesh and they're particularly lovely collector's items. If you're into any of the games above, go and grab yourself a nice deal. Here's the sort of thing you can expect: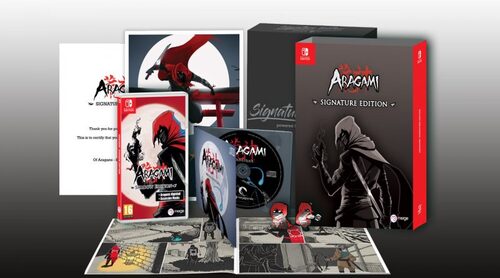 Make sure to let us know if you snap any of these up with a comment below.