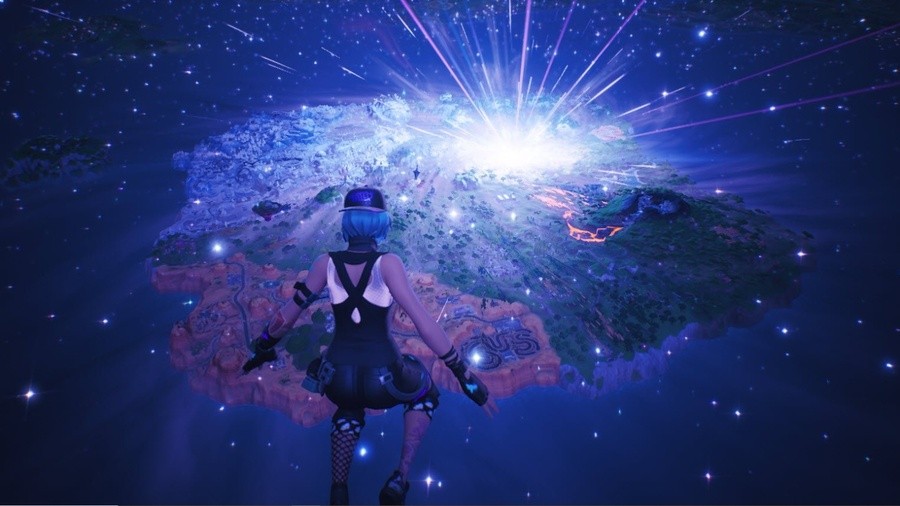 Fortnite may well be completely missing in action and unavailable to play, but Nintendo has reassured fans that their V-Bucks and in-game items are perfectly safe.
Yesterday saw what has turned out to be the most spectacular of the game's live events to date, with a huge explosion of sorts seemingly wiping out the game's island as players watched in confusion. Since then, the game itself and all of Fortnite's official social media channels have been entirely silent, with players being unable to access the game at all. Developer Epic Games has been teasing the event as "the end" of the game.
Of course, we all know that this is one big marketing stunt - an incredibly cool one, we have to admit - and Nintendo has essentially confirmed this with a message of reassurance. Presumably in response to fans demanding an answer about the game's current situation, the house of Mario has issued the following statement on its official support site:
Due to the Fortnite Blackout, all game modes are currently unavailable for play. Please be assured that your inventory items and V-Bucks are secure.
There's no knowing when the game will be back, although it's expected that it will return in a completely rebranded fashion under the title 'Fortnite: Chapter 2' with a brand new map for players to explore.
Exciting stuff!
---
Thanks to Green_Sensei for the tip!