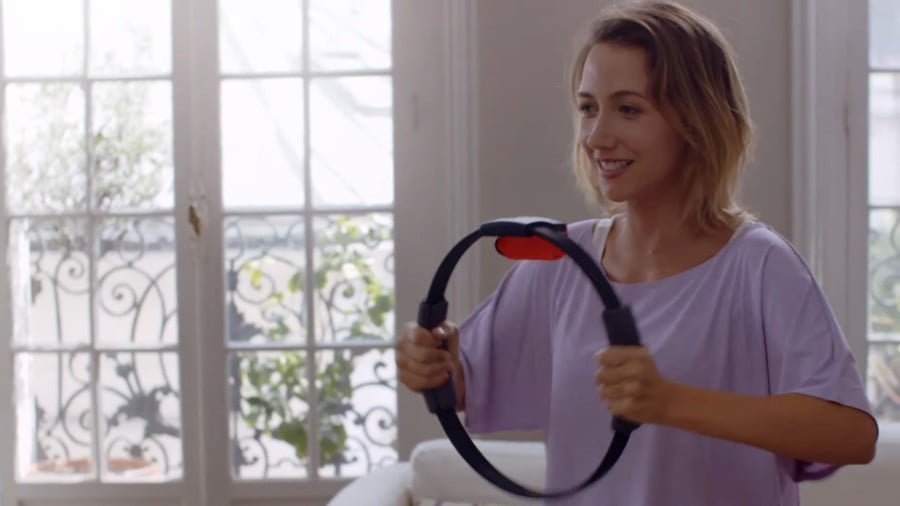 In a recently released trailer, Nintendo has teased what it calls 'a new experience for Nintendo Switch'. It appears to be a flexible 'ring' controller which you click your right Joy-Con into for all sorts of stretchy, bendy activity. There's obvious speculation that it's some new form of Wii Fit, although the software itself wasn't shown. The ring is something of a surprise, but it seems that it may be the final form of an idea first revealed a few years ago.
Looking back through some patents filed in 2015 and 2016, we've found mention of a 'training implement' with load sensors that measure the force applied to the grips. We reported on a patent for a U-shaped device at the time, and other diagrams in the same filing clearly show a ring-shaped variant that measures somebody's ability to do squats, among other things:
Elsewhere the text refers to the specific abilities of a potential device which we reported four years ago, but which now seems even more interesting:
A training implement (10) comprises a hollow body (12) formed from an aluminum alloy. The body is configured from two grips (12a) provided facing each other across a space, and a connecting section (12b) connecting the two grips. A load sensor (16) is disposed in the connecting section inside the body. The load sensor is a load cell, the strain gauge is bonded on the inside of the body, and the portion of the body to which the strain gauge is bonded functions as a strain element. Consequently, when a user applies force so as to bring the two grips towards each other or applies force so as to separate the two grips, the load thereof is detected by the load sensor.
While the design may be different from the U-shaped grip seen in the majority of the patents, it's entirely possible that these original filings are coming to fruition with this new 'ring' controller. The new device appears to be extremely flexible, so if this is connected in any way, it has obviously gone through some design changes in the intervening years.
We'll have to wait and see exactly how this mysterious peripheral functions - it doesn't look like there's a lot of room to squeeze much tech into the ring itself, but perhaps there are some sensors hiding in those grips. Nintendo promises in the trailer that we'll find out more on 12th September, so there's not long to wait to find out more.
Nintendo never throws out a good idea - do you think this old patent could be related to the new device? Let us know with a comment below.
[via patentscope.wipo.int]