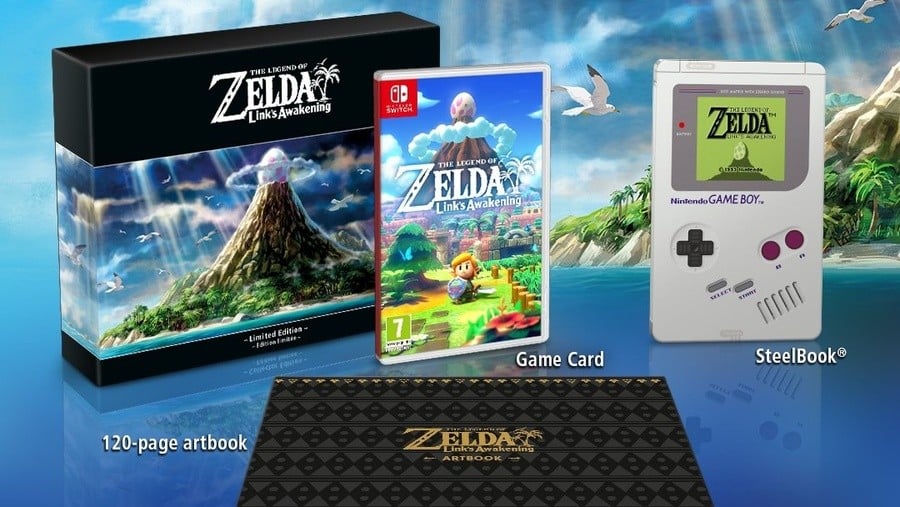 If you're hoping to pick up the wonderful The Legend of Zelda: Link's Awakening limited edition set, you're in the right place. We've gathered together the various bundles of the Limited Edition from a variety of retailers below, plus answers to some questions you might be having about the available editions (scroll to the bottom).
Make sure to bookmark this page and keep checking back if you're waiting for a particular store or if your favourite sells out of copies - we've added Nintendo's official store (including the rupee lamp bundles) and we've also added an option to pick up the Japanese variant.
---
Update: (9:30am, 15th Aug): Argos have joined the party with a very welcome £68.99 price point!
Update: (9:35am, 30th July) Very.co.uk are back in stock, get in there quickly!
Update (6pm BST, 27th June) Amazon UK sold out quickly, but act quick as now the Nintendo UK Store pre-order is live!
Update (11:20am BST, 26th June): Each store has been selling out incredibly quickly, but Amazon UK has now listed the Limited Edition for the first time (we've added it below). Good luck, and act fast!
---
What's included in the Link's Awakening Limited Edition set in Europe?
The European special release includes a physical copy of the game, a 120-page artbook, a Game Boy-themed steelbook case, and a lovely box to put it all in. The North American version is different, though.
What's included in the Link's Awakening Limited Edition set in North America?
Technically, the North American version isn't the 'Limited Edition' - it's the 'Dreamer's Edition' and it includes the game and the artbook (but not the Game Boy steelbook).
What about the Japanese Link's Awakening Artbook set?
As the name suggests, this includes the game and the artbook (identical to the American Dreamer's Edition, then, except in Japanese).
What's the story with that Rupee Lamp on Nintendo's Official UK Store?

For an extra £5 you can get a natty Blue or Red Rupee Lamp included in your bundle that retails for £11.99 on its own. It's the same lamp that was available as a pre-order bonus for Hyrule Warriors: Definitive Edition, although the green one isn't included. If you're really keen on it, you can get the game and the lamp sans the other Limited Edition gear for £54.99.
---
Are you hoping to pick up this special bundle? Chuck a comment our way if you decide to go with any of the deals featured.