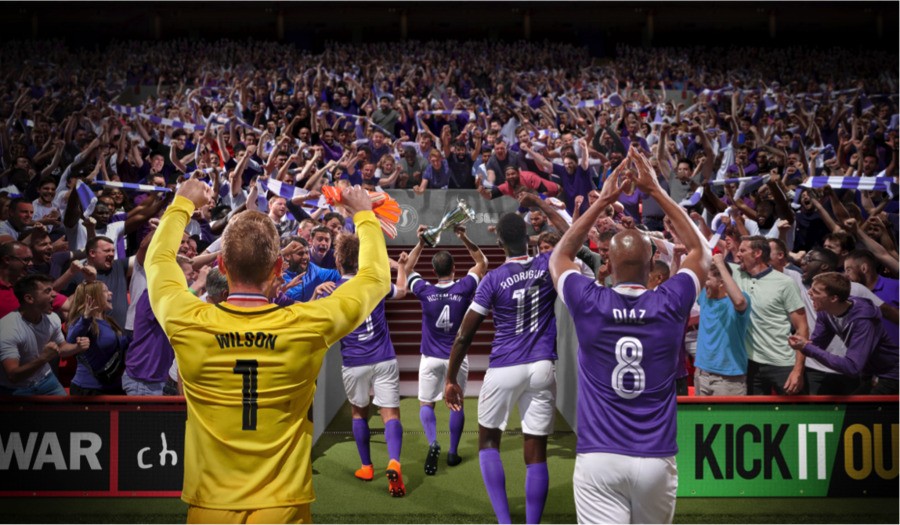 Sega and Sports Interactive have announced Football Manager 2020 Touch for Nintendo Switch. The game will launch on Nintendo's machine in late November, shortly after its arrival on other platforms.
As you can likely tell by the name, the 'Touch' edition coming to Switch sits most closely in line with the versions coming to smartphones, and will likely keep the simplified format seen in previous years. The standard 'Football Manager 2020' release has so far been confirmed for PC, Mac and Google Stadia.
Hardly any real information about the new release has been shared just yet - the first details are expected to be revealed in mid-September - and the new trailer doesn't give us much to go on, either. You can see it below, but be warned that there's some not-so-perfectly bleeped out swearing within:
One thing we do know so far, is that the Google Stadia version is set to be the "fastest way to experience" the game. Miles Jacobson, Studio Director of Sports Interactive, has shared the following in a press release:
"Football Manager on Stadia includes technology that is only available on that platform, utilising the power of the cloud and Google's data centres to ensure that more matches can be processed in parallel utilising spare bandwidth across the whole system – this means you can have more leagues loaded into your save, or just go for a faster experience by keeping the amount of leagues the same, but having the matches process quicker than you can on any other platform."
So there.
Despite its flaws, we enjoyed our time with Football Manager 2019 Touch on Switch, so here's hoping the series can bicycle kick its way to new heights with the 2020 edition.
Are you a fan of the series? Will you be spending every living hour on the new game when it arrives? Let us know with a comment below.