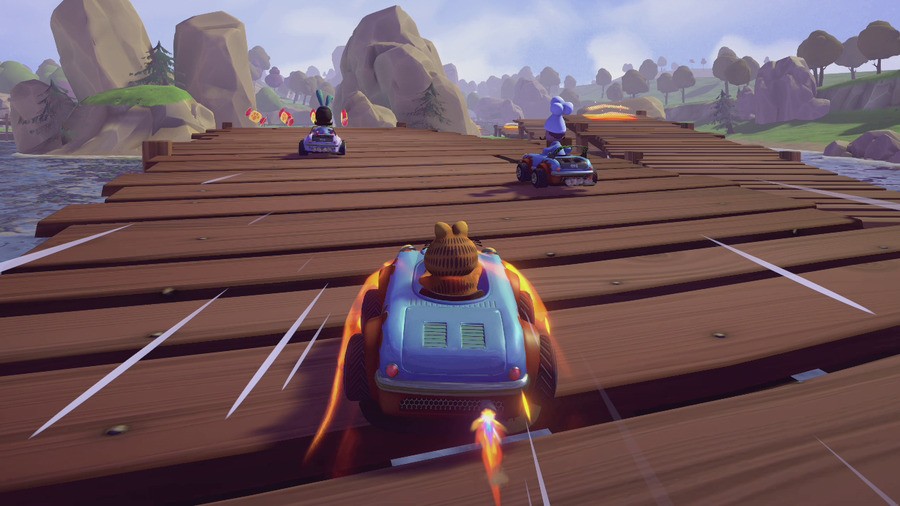 The Switch has plenty of kart racers to choose from, some of which even star major gaming stars like Mario, Sonic and Crash Bandicoot, but that hasn't stopped Garfield from returning to the genre with Garfield Kart Furious Racing.
Yes, a brand new Garfield racer is headed to Switch this November, serving as a sequel to Garfield Kart on 3DS. The game will see the world-famous cat taking on Jon, Odie and friends in 16 tracks from the world of Garfield including Palerock Lake and the Pastacosi Factory. Players can compete in online races with up to eight players, and split-screen races with up to four players.
The game features a number of characters and karts which can all be customised with "dozens" of accessories and all come with their own driving style. You'll need to pick the setup that feels best for you before getting out on track and using crazy bonus items to secure the win - there are Grand Prix, Single Race and Time Trial events to enjoy.
The game is launching on 7th November in Europe, and slightly earlier on the 5th November in North America. Garfield, Odie, Jon, Nermal, Arlene, Liz, Harry and Squeak have been confirmed as playable characters.
Room for one more racer on your Switch?