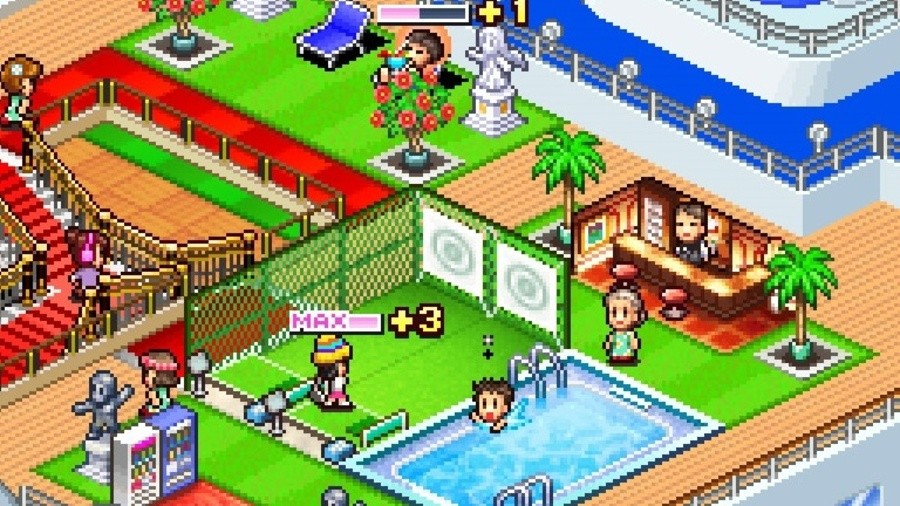 The Kairosoft game library on the Nintendo Switch continues to expand. The next pocket-sized entry in the addictive management simulation series is all about running your own cruise liner. It's appropriately-named World Cruise Story and will be available on the eShop on 18th July for $12.00 / £8.99.
Players are tasked with managing their guests while decking out their ship with restaurants, casinos and all sorts of other entertainment at the same time. Here's the full description from the eShop:
Get ready to take the helm of history's grandest, most over-the-top luxury cruise liner for an unforgettably addictive excursion at sea!
Deck your own ship with everything from lavish suites and first-class restaurants to casinos and hot tubs! You call the shots as you travel the world, visiting every country on the map--even entertaining royalty with tours truly fit for kings!
Put the right facilities next to each other and you'll score big points with passengers and reviewers. Amass enough fame and even celebrities will come flocking when you're in port!
Can you turn your sea buggy into a 5-star floating paradise? Put on your captain's hat and find out in World Cruise Story!
If you would like to find out more about Kairosoft's previous releases on the eShop, click here.
Have you bought a Kairsoft title for your Switch yet? Do you like the look of World Cruise Story? Leave a comment down below.
[via nintendo.com]