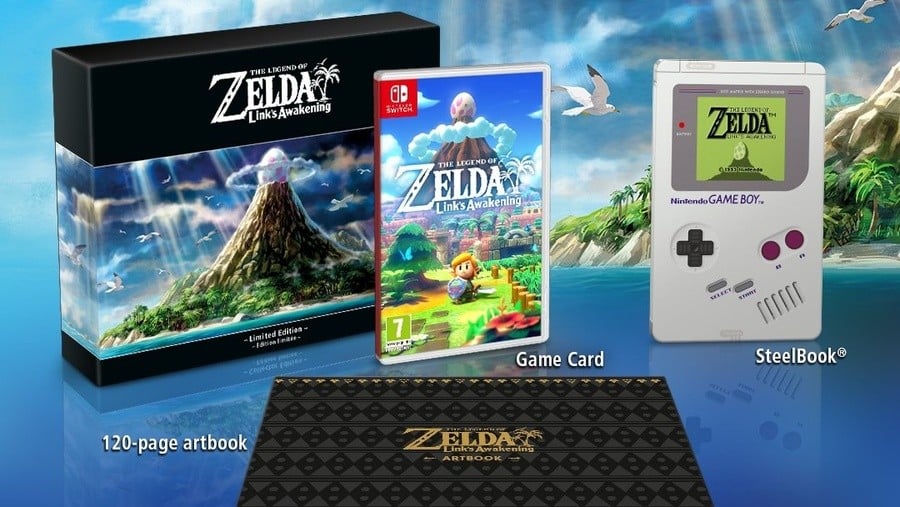 If you're hoping to pick up the wonderful The Legend of Zelda: Link's Awakening limited edition set, you've certainly come to the right place.
The European special release includes a physical copy of the game, a 120-page artbook, a Game Boy-themed steelbook case, and a lovely box to put it all in. Retailers have started to put pre-orders up for the limited edition bundle, and we'll be gathering any good deals we find right here.
Make sure to bookmark this page and keep checking back if you're waiting for a particular store or if your favourite sells out of copies - we'll add Nintendo's official store here when orders go live. In the meantime, we've also added an option to pick up the Japanese variant.
---
Update (6pm BST, 27th June) Amazon UK sold out quickly, but act quick as now the Nintendo UK Store pre-order is live!
Update (11:20am BST, 26th June): Each store has been selling out incredibly quickly, but Amazon UK has now listed the Limited Edition for the first time (we've added it below). Good luck, and act fast!
---
As a reminder, this limited edition is only releasing in Europe. North America is being treated to a special edition, too, but there are a couple of differences.
Are you hoping to pick up this special bundle? Chuck a comment our way if you decide to go with any of the deals featured.