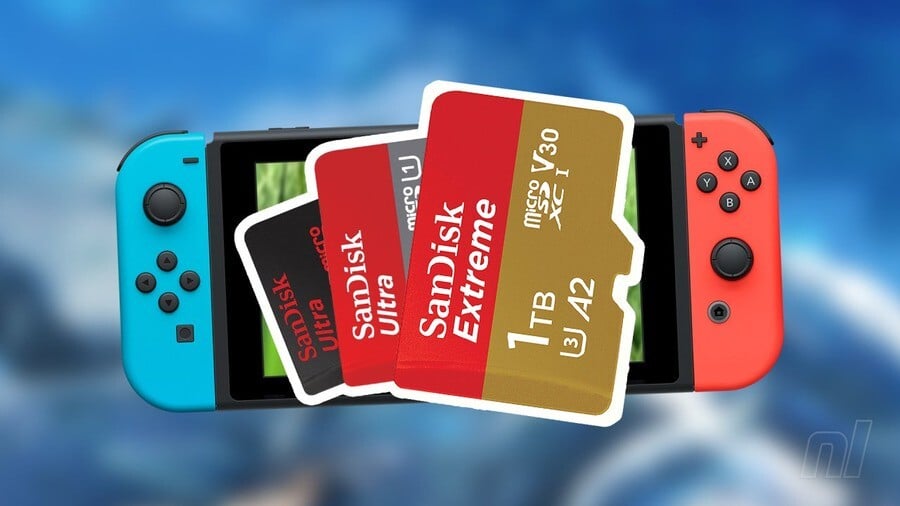 If you picked up a Nintendo Switch recently and have downloaded any games from the bounty available on Nintendo eShop, it's highly likely that you'll be running out of internal storage space soon. Indeed, storage space is one of the console's weaknesses, and the fact that there are so many amazing games to experience makes this an issue that will only get worse in the future. The Switch comes with just 32GB of internal storage space, of which only 25GB is actually accessible by the end user.
That's such a low amount of space that certain games like NBA 2K19 and L.A. Noire won't even fit on it. Heck, even if you buy most of your games physically you'll still run into trouble eventually thanks to the many downloadable patches you'll have to install to make them function properly.
The answer? You need to invest in a Micro SD card. Nintendo has thankfully embraced the industry standard for portable media storage and it's relatively cheap to upgrade the amount of space your Switch has access to. It is now possible to buy an eye-wateringly priced 1TB micro SD card for your Nintendo Switch. While it'll be some time until that card drops into the realms of affordability, smaller cards are becoming more reasonably priced all the time. Even modest sizes offer a substantial upgrade over internal memory, so there's never been a better time to get a cheap Micro SD card for Switch.
Below, we've rounded up all of the best Micro SD cards you can get right now at the cheapest prices. The costs are steadily creeping down, so you might be surprised at how much bang you can get for your buck.
Best Switch Micro SD cards (USA)
Our US micro SD card recommendations are mostly taken up by SanDisk, as these cards offer far greater value for money than their direct competitors. Having said that, we do recommend a Samsung card at 512GB due to its competitive price.
Best Switch Micro SD cards (UK)
Our UK recommendations are extremely similar, with SanDisk generally offering the best bang for your buck across all of the ranges, with Samsung's competitively-priced 512GB making another appearance.
Officially-Licensed Nintendo Switch Micro SD Cards
These 64GB, 128GB and 256GB officially licensed Nintendo Switch micro SD cards from SanDisk might not give you the most bang for your buck, but they sure do look pretty!
Nintendo Switch Micro SD Cards FAQ
Our micro SD card FAQ below should answer any questions you might have, but feel free to ask us anything in the comments section and we'll do our best to answer. The most frequently asked questions will then get added here.
Can You Use Any Micro SD Card For Nintendo Switch?
The Switch supports any UHS-I Micro SD, Micro SDHC, or Micro SDXC cards. If you have no idea what any of that means, it's not really worth worrying about as you have to really go looking for the cards that the Switch doesn't support.
Given how little the speed differs between the different cards that the Switch does support, we recommend just ignoring that aspect entirely and just grabbing the cheapest you can find. It really doesn't make much difference.
Besides, cartridges are almost always slower than Micro SD cards, so no matter which you go for, you're going to get improved loading speeds.
Where Is The Micro SD Card slot?
If you're wondering how to go about putting a Micro SD card into your Nintendo Switch, the handy photo above should help.
To access the Micro SD card slot on your Nintendo Switch, simply pop out the kickstand on the back of the Switch. Inserting a Micro SD card can be a bit fiddly, so you'll want to do it with the logo facing up. Push the card into the slot until it makes a reassuring clicking sound.
What Speed Micro SD Card Should I Buy?
At the moment, speed isn't really worth considering when you purchase a micro SD card for your Nintendo Switch. The reason for this is that the Switch only supports UHS-1 cards, which max out at 104MB/s in terms of speed. The UHS-2 types are three times faster, with a 312MB/s speed but that's irrelevant as the Switch doesn't currently support them.
While it's true that the speed between even the UHS-1 cards does vary, the differences just aren't noticeable enough to worry about. That's why we've focused purely on the best value for money, as there is a considerably larger difference between the prices of two micro SD cards than there is the speed.
What Size/Capacity Micro SD Card Should I Buy?
It's going to be a while until 2TB cards are available and, more importantly, affordable. Right now you typically have the choice of 1TB, 512GB, 400GB, 256GB, 200GB, and 128GB.
SanDisk has finally released a Micro SD card with a capacity of 1TB, which is a fantastic option for Switch owners who plan to download a lot of games, but it comes with a high price tag at the moment - significantly more than the console itself! If you have that sort of cash to spend, this is currently the ultimate option for your Switch.
On the other end of the scale you can pick up a very cheap 128GB Micro SD card, but chances are you'll fill it up very soon with downloads, so we recommend you think long-term and consider the ~200-256GB range.
The best value for money right now are the 400GB cards from SanDisk, with each of those gigabytes costing you just £0.14 / $0.16.
An alternative approach would be to buy multiple cards and swap them depending on which games you want to play - slightly more effort, but potentially very affordable. Just be sure to keep them in a safe place.
What Type/Brand Of Micro SD Card Is Best?
Nintendo Switch ideally wants the fastest micro SD card for improved loading times; generally, a good micro SD card will slightly outperform Nintendo's physical game cards, which is a bonus for downloaders.
You can usually get a "read speed" rating on the SD Card you're looking at buying. You should also notice that micro SDXC is the newer, faster type versus the older micro SDHC.
Brands also offer "premium" versions of their products; one example is the SanDisk "Ultra" range, which is typically populated by their fastest cards.
We'd recommend going for one of the premium offerings if you can, but it shouldn't make a huge difference for the average user, especially as Switch is currently unable to take advantage of the fastest speeds.
Should I Install All Of My Games On A Micro SD?
Given the Nintendo Switch's limited 32GB of internal storage – of which only 25.9GB is actually usable – you're going to be forced to install the vast majority of your downloaded games directly onto the micro SD.
However, we have learned that games installed directly onto the internal storage saw improved load times over cartridges and micro SDs, with the most extreme cases improving load times on The Legend of Zelda: Breath of the Wild by a whopping five seconds.
The differences between Switch cartridges and micro SD were too small to really fuss over – a mere second or two here and there – but it does seem like installing on the internal storage offers a significant improvement. As such, we'd recommend installing your most played game/s on your internal storage, and the rest onto the micro SD.
How Do I Move A Game Between Micro SD And Internal Storage?
Sadly, there's no easy way to quickly move a game from the micro SD to your internal storage. Instead, you're going to have to delete and download it again.
When downloading a game, the Switch will always favour the micro SD card over internal storage, so to ensure a download goes into the internal storage, you're going to have to take the micro SD card out first.
Turn off the Switch before you do so to avoid any nasty data corruption, then take the micro SD card out of its slot. Turn the Switch back on, head to the eShop, and download the game you want to be installed on your internal storage. Once the download is complete, you can turn the Switch back off and pop the micro SD card back in.
To move a game from internal storage to micro SD card, just reverse the steps. First delete or archive it, then download it while the micro SD card is in its slot. As the console favours micro SD over internal storage, it will download there first – provided there's enough space, of course.
Don't worry about losing your save files while deleting or archiving a game though – they're stored in a different location, and require deleting separately. Also, cloud-based saving is a thing now thanks to Nintendo Switch Online. Huzzah!
---
Whichever Micro SD card you pick, you're going to be increasing the potential of your beloved Nintendo Switch. If you plan on taking your Switch out with you on your travels, having a large capacity will be a great idea as you won't need to carry loads of pesky carts around with you.