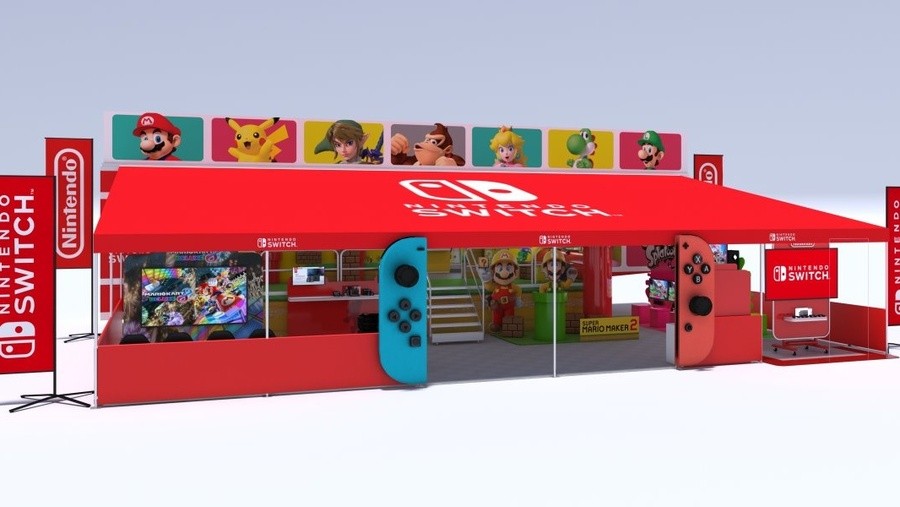 Nintendo has revealed plans to kickstart a US road trip next month which will see some of the biggest Switch games be ready and waiting for you to try out.
Running from 26th June through to October, visitors can expect to enjoy hands-on time with some top games, photo opportunities, and other activities, too. Nintendo says that the stops throughout the road trip are "designed with kids and families in mind, offering them a one-of-a-kind Nintendo-themed experience that they can enjoy together".
If we're being honest, we'd be up for going just to see that truck (below), nevermind all the activities and things on the day. If you're interested in going, here's the full schedule:
Location
Dates
Navy Pier

Chicago, Illinois

June 26-30
Summerfest®

Milwaukee, Wisconsin

July 3-7
California State Fair

Sacramento, California

July 12-14

Bite of Seattle

Seattle, Washington

July 19-21
Musikfest

Bethlehem, Pennsylvania

Aug. 2-4
Iowa State Fair

Des Moines, Iowa

Aug. 8-11
Kentucky State Fair

Louisville, Kentucky

Aug. 15-19
The Great New York State Fair

Syracuse, New York

Aug. 22-25
Minnesota State Fair

Saint Paul, Minnesota

Aug. 30-Sept. 2
New Mexico State Fair

Albuquerque, New Mexico

Sept. 6-8
LA County Fair

Pomona, California

Sept. 11-15
The Big E

West Springfield, Massachusetts

Sept. 26-29
Georgia National Fair

Perry, Georgia

Oct. 3-6




We also have a list of the games you can expect to play. There are several big Nintendo titles, and Overcooked 2 has also been given a look in. Nice.
To get more information on the road trip, feel free to head over to Nintendo's official site.
Do you live near any of these locations? Will you be heading down to check it out for yourself? We wish something like this would come and visit us at Team Nintendo Life in the UK. Maybe next time, huh?