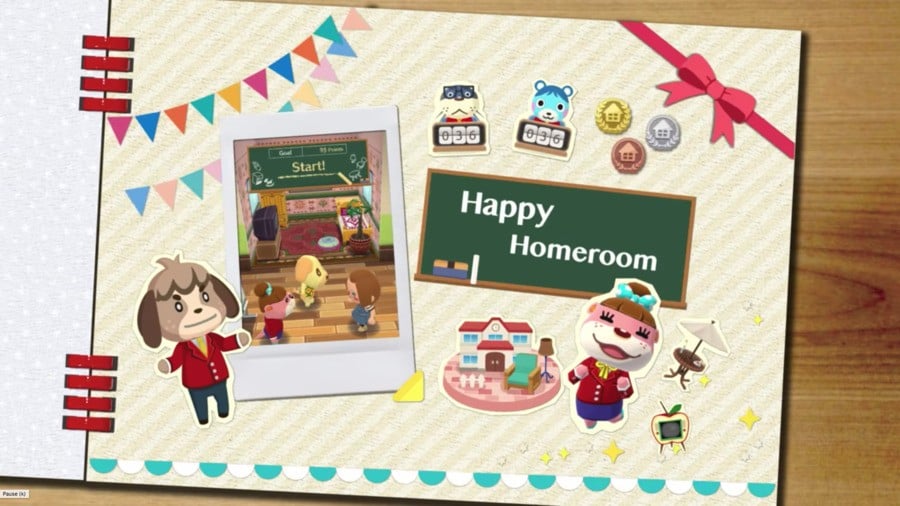 Mobile app Animal Crossing: Pocket Camp has just received what is being described as a "major" update, introducing a new interior design minigame called Happy Homeroom.
In this new game, you can use your furniture to practice your interior design skills. Your finished designs will be judged by Lottie and other adorable critters, and if you pass the Happy Homeroom classes, your HH Rank will increase, earning you items like the HH material and more. These HH materials can be used to make Golden Series furniture, which can be crafted after reaching Amateur Rank 1 in Happy Homeroom.
To access this new mode, you'll need HH Vouchers, which replenish over time. Today's press release tells us that your Camp Manager Level must also be level 6 or above, and has also provided a list of several other additions that have arrived in the game recently.
New Local Produce – Grapes, lemons and lychees are the newest local fruit to be added to the game. While each player has a Local Produce tree in both their Lost Lure Creek and Breezy Hollow locations, they will need to make use of other players' Market Boxes to obtain the other two regional fruit.
Blathers's Treasure Trek – A new mini-game that involves rolling a die on a map that resembles a board game. Treasure maps earned in this mini-game will reward bells or crafting materials. Special maps will even invite new animals to your campsite!
Pete's Parcel Service – A new and handy way to level up your friendship with animals. By selecting this service, Pete will complete animal requests for you without you needing to visit their locations. What a nice pelican!
A new video highlighting all of the app's latest features and additions, including recently introduced animal friends, the cabin, and more, has also been shared. Check it out below.
Will you be checking out the Happy Homeroom? Do you regularly play Animal Crossing: Pocket Camp? Tell us below.