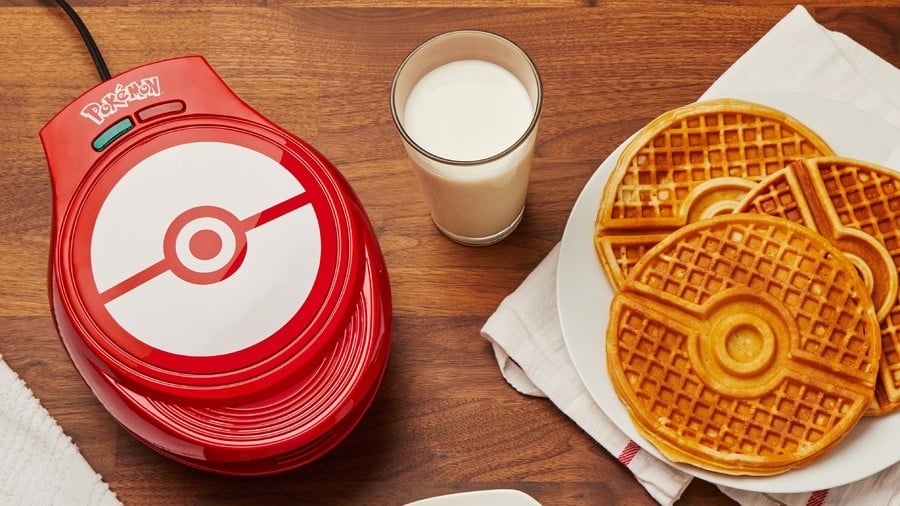 If you're a fan of Pokémon and waffles, which certainly sounds like an excellent combination to us, then you're probably just about to fall in love with the idea of this Poké Ball Waffle Maker.
Released by the folks over at ThinkGeek, this waffle maker is officially licensed and creates the tastiest looking waffles we've ever seen. The waffles come out at just under 7 inches in diameter, with non-stick cooking plates imprinting the design on both sides of each one. ThinkGeek recommends filling the top half of the plate with batter tinted red for the complete look.
We've got a couple of images and some technical info for you below if you're interested:
- Indicators lightupwheniron is on and when it is at correct temperature
- Materials: BPA-free housing and cast aluminum cooking plates
- Care Instructions: Wipe plates with a damp cloth. Do not submerge in water.
- Dimensions: 8" wide x 10" deep x 4" tall with 3' long cord
- Weight: 2 lbs.
- Electrical Plug: Type B socket (American, grounded) 120V ~ 60Hz
- Ages 14+
If you suddenly find yourself needing this product in your kitchen just as much as we do, you can pre-order your very own from ThinkGeek for $34.99 (as long as you live in the US or Canada).
Have we just stumbled across the best piece of food-making equipment ever to exist? Let us know if you'll be spicing up your meal times in the comments below.