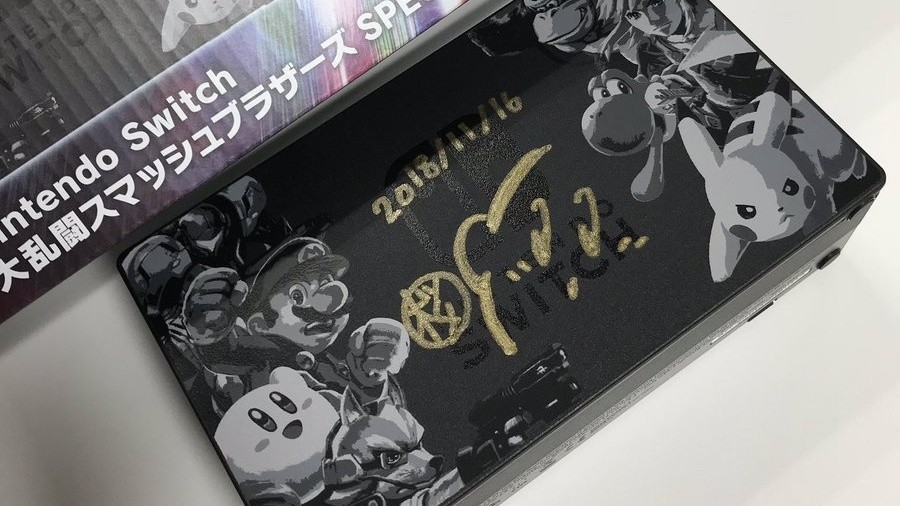 If you love the Super Smash Bros. series just as much as we do, then you're probably about to become painfully jealous of this lucky Smash Bros. Ultimate developer.
As you may already know, a special Super Smash Bros.-themed Nintendo Switch has launched today, ready for the game's release next month on 7th December. Featuring the iconic Smash symbol on the Joy-Con, and a selection of characters on the dock, this special edition is already pretty fabulous out of the box, but the game's director Masahiro Sakurai has shared a photo of a particularly special one that has been signed by the man himself.
It appears that a member of the development team bugged Sakurai into signing their new dock, no doubt wanting to keep it locked inside a beautiful display case for the rest of time. Featuring a lovely little doodle of Kirby, the signature looks great on the dock and we suddenly find ourselves wanting our very own more than anything else in the world.
Can you imagine if these were sold as super-limited editions? Of course, scalpers would be all over them faster than you could say "Smash", but the excitement it would cause would be amazing to experience.
Would you like Sakurai-san to sign your Switch? Will you now look at your own Switch in sadness, knowing that it will never be quite as beautiful as this one? Let us know in the comments below.
[via twitter.com]