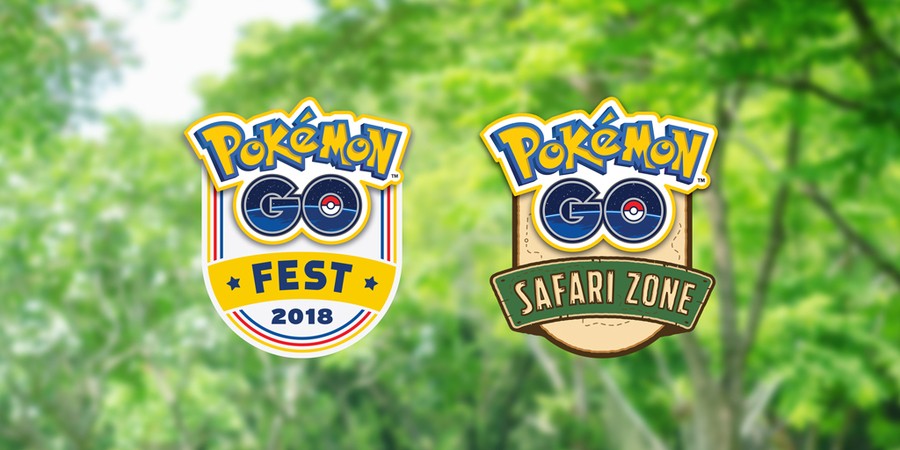 Forget the World Cup – the Pokémon GO Summer Tour 2018 is this year's most exciting event, and it kicks off in just shy of a fortnight with events taking place in Chicago, Dortmund, and Yokosuka throughout the summer.
You can still join in the fun if you can't make it to any of the participating locations though. During specific periods, you and your entire region will be tasked with performing a variety of challenges en masse, and if you complete them as a group, you'll earn a bunch of exciting rewards.
In this guide, we'll run you through everything you need to know to about the Pokémon GO Summer Tour 2018, including event times, challenges, and rewards for completing them.
Pokémon GO Summer Tour 2018 - How It Works
The Pokémon GO Summer Tour 2018 is made up of two different parts: location-specific events at Chicago, Dortmund, and Yokosuka, and global challenges that everyone can get involved in. Let's take a quick look at how each of them work.
How the GO Fest 2018 and Safari Zone events work
There are two different flavours of location-specific events: the GO Fest 2018 in Chicago, which is kind of an anniversary event for Pokémon GO, and the Dortmund and Yokosuka Safari Zone events.
Each event acts pretty similarly, with you and a ton of other Trainers meeting up at specific locations to perform challenges together in exchange for rewards. You'll also often find event-specific PokéStops spewing out exclusive rewards, and rarer Pokémon appearing in those locations for the course of the event.
It's worth noting that friendships and trading will likely play a huge part in this year's events, as Niantic has stated that those features will roll out in time for the Dortmund Safari Zone event, which kicks off first on June 30th.
How the global challenges work
The global challenges in Pokémon GO kick off around the same time as the GO Fest and Safari Zone events, and reward players across the globe for working together to complete specific challenges. You'll also find increased spawn rates for specific Pokémon, and event-specific Pokémon including shinies, legendaries, and Alolan forms.
How the global challenge rewards work
If a region completes the challenge, which in this case is performing 5,000,000 research tasks as a collective, that reward will then unlock for the globe for a specific period, usually for a week starting the day after the event concludes.
There's also a secret bonus reward that unlocks for a single day for each event.
Pokémon GO Summer Tour 2018 - Event Times
Niantic has released a handy infographic below that details the event in full, including event times, challenges, and rewards per region. We'll go into a little more detail below for each event though, in case you're curious.
Safari Zone Dortmund 2018 Event Times And Challenges
| Event | Location | Date | Challenge | Reward | Increased Pokémon Appearance Rate |
| --- | --- | --- | --- | --- | --- |
| Pokémon GO Safari Zone Dortmund 2018 | Westfalen Park | June 30th - July 1st | Complete 100,000 Research Tasks | Catch XP | Roselia, Shiny Roselia, Grass / Poison Types |
Safari Zone Dortmund 2018 Global Event Times And Challenges
Region
Rewards Unlock
Bonus Reward
Challenge
Rewards
Increased Pokémon Appearance Rate

Europe, Middle East, and Africa
2nd - 9th July
7th July
Complete 5,000,000 Research Tasks
Raid XP
Roselia, Shiny Roselia, Grass / Poison Types

Americas
2nd - 9th July
7th July
Complete 5,000,000 Research Tasks
Hatch XP
Roselia, Shiny Roselia, Grass / Poison Types
Asia-Pacific
2nd - 9th July
7th July
Complete 5,000,000 Research Tasks
Lucky Eggs
Roselia, Shiny Roselia, Grass / Poison Types
GO Fest Chicago 2018 Event Times And Challenges
| Event | Location | Date | Challenge | Reward | Increased Pokémon Appearance Rate |
| --- | --- | --- | --- | --- | --- |
| GO Fest Chicago 2018 | Lincoln Park | July 14th - 15th | Complete 100,000 Research Tasks | Catch Candy | Plusle, Minum, Shiny Plusle, Shiny Minum, Alolan Diglet, Alolan Geodude |
GO Fest Chicago 2018 Global Event Times And Challenges
Region
Rewards Unlock
Bonus Reward
Challenge
Rewards
Increased Pokémon Appearance Rate

Europe, Middle East, and Africa
16th - 23rd July
21st July
Complete 5,000,000 Research Tasks
Hatch Candy
Plusle, Minum, Shiny Plusle, Shiny Minum, Alolan Diglet, Alolan Geodude

Americas
16th - 23rd July
21st July
Complete 5,000,000 Research Tasks
Egg Distances
Plusle, Minum, Shiny Plusle, Shiny Minum, Alolan Diglet, Alolan Geodude
Asia-Pacific
16th - 23rd July
21st July
Complete 5,000,000 Research Tasks
Raid Rare Candy
Plusle, Minum, Shiny Plusle, Shiny Minum, Alolan Diglet, Alolan Geodude
Safari Zone Yokosuka 2018 Event Times And Challenges
| Event | Location | Date | Challenge | Reward | Increased Pokémon Appearance Rate |
| --- | --- | --- | --- | --- | --- |
| Safari Zone Yokosuka 2018 | TBC | TBC Summer 2018 | Complete 100,000 Research Tasks | Catch Stardust | TBC |
Safari Zone Yokosuka 2018 Global Event Times And Challenges
Region
Rewards Unlock
Bonus Reward
Challenge
Rewards
Increased Pokémon Appearance Rate

Europe, Middle East, and Africa
TBC
TBC
Complete 5,000,000 Research Tasks
Star Pieces
TBC
Americas
TBC
TBC
Complete 5,000,000 Research Tasks
Hatch Stardust
TBC
Asia-Pacific
TBC
TBC
Complete 5,000,000 Research Tasks
Raid Stardust
TBC