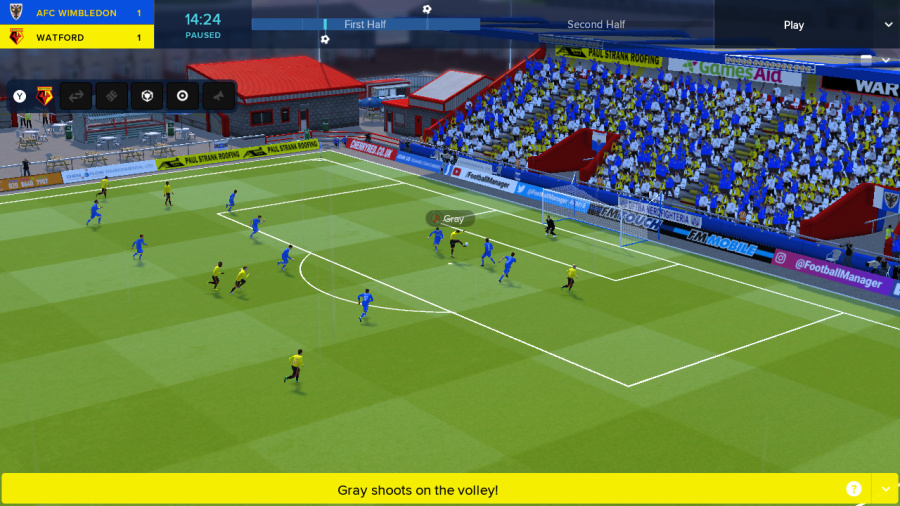 The tease was indeed true; the million-selling Football Manager series is coming to Switch - in fact, it launches today on the eShop.
Publisher Sega has confirmed the news, as well as revealing that Football Manager Touch 2018 has been jointly developed by Sports Interactive and Hardlight. The game has a unique interface which uses the touchscreen or the Joy-Con, and even includes the 3D engine for match action. 
Here's the PR:
Sports Interactive and SEGA® Europe are delighted to announce a major landmark in the history of the Football Manager series, the immediate release of Football Manager Touch 2018 on the Nintendo Switch™ as a digital download from the Nintendo eShop.

Football Manager is the most realistic, in-depth and immersive football management simulation in the world. Putting you in the hot seat of any club in more than 50 countries across the world, Football Manager allows you to take on the role of a real-life gaffer: you decide who plays and who sits on the bench, and you're in total control of tactics, team talks, substitutions and pitch-side instructions.
FM Touch has been fully optimised for the Switch with a bespoke user interface and a customised control system that takes full advantage of the system's various controller input options, including support for both the touchscreen and Joy-Con™ controllers.  This gives fans a unique Football Manager experience that can be played on the move or docked at home and enjoyed on the big screen.

In addition, FM Touch on Switch will offer a fully-fledged single-player experience including the series' acclaimed 3D Match Engine – the first time that the 3D engine has been playable on a home console.

"This is a milestone release for Football Manager," says Sports Interactive's Studio Director, Miles Jacobson. "This is our first console release in a number of years but it is also our most innovative release of Football Manager Touch to date thanks to the various control methods we've included that gives everyone a way of playing Football Manager that suits them."
Football Manager Touch 2018 for Switch has been co-developed by Sports Interactive and sister game development studio Hardlight (the team behind Sonic Dash and Sonic Jump). 

"It's been a huge technical achievement to bring Football Manager to the Switch but, as a studio, we've embraced the unique design opportunities that the console offers," adds Jacobson. "Thanks to the support we've had from Hardlight throughout the development process we've been able to create a Football Manager experience that is just as immersive and enjoyable whether you're managing on the move during your commute or playing it on your TV."
Are you ready to lose your life to Football Manager all over again?