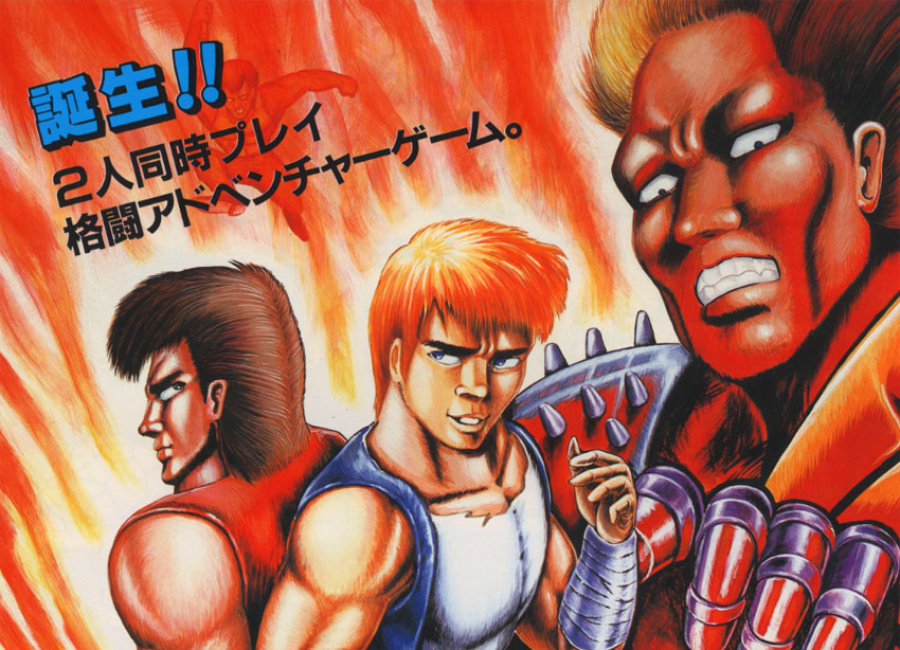 Billy and Jimmy Lee's original arcade adventure will bring the pain next week to the Switch eShop at the usual price point. HAMSTER's Arcade Archives send off to 2017 is none other than Yoshihisa Kishimoto's sequel to Renegade (Nekketsu Kōha Kunio-kun in Japan, Kunio's debut video game), a coin-op that revolutionized the side scrolling beat'em up genre by offering two player cooperative gameplay... at least up to the very end (the heart wants what the heart wants).
In the grim dystopian future where gangs rule the streets and law is made by fists and steel, Marian sees herself kidnapped by the Black Warriors gang. Billy is having none of that, so he along with his brother Jimmy (Hammer and Spike in the US for Western sensibility purposes) take on the streets, the factory, the forest and the gang's hideout, delivering martial arts justice to the many foolish street thugs who face them, including powerhouse Abobo whose debut entrance is in Double Dragon players' minds to this day. It's far from award winning plot material, but back in the '80s this was all we needed to get things going.
Double Dragon will be the first Technōs Japan-developed / Taito-published title to be released as part of the Arcade Archives series from HAMSTER; hopefully it will not be the last.
Did you play this one back in the arcades or on any one of the many home ports? Will you grab an important piece of video gaming history next week to carry around on your Switch? Put up your fist and take on the comments section below.

Update: Better late than never, the game will finally arrive on January 18th.
[via japanesenintendo.com]