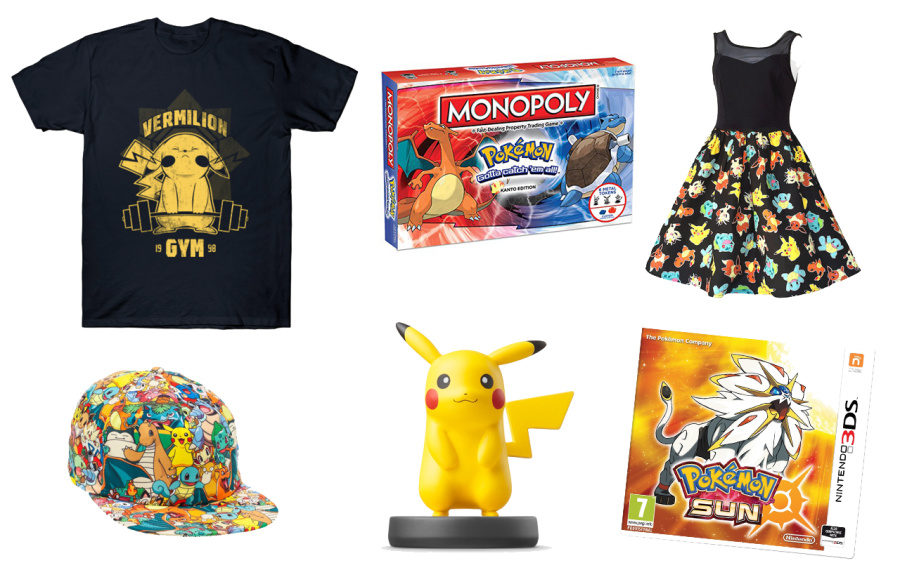 The Pokémon brand is on a all-time high following the release of Pokémon GO, Sun and Moon and - more recently - Pokémon Ultra Sun and Ultra Moon. Now that it's almost Christmas, hopefully you can still manage to dress up warm and get out and about collecting the little critters while getting some fresh, bracing air at the time. 
Whatever kind of Pokémon trainer you are, you'll need to look at the part and have the best gear. Say hello to our handy Pokémon Merchandise guide, updated in time for the holidays!
Clothing
You need to make sure you look the part when you're out and about hunting Pokémon, so be sure to check out in rather fetching clothes. You'll be the envy of all the other Pokémon trainers out there!
Pokémon Themed Consoles & Hardware
Who doesn't love limited edition Pokémon-themed hardware, right?
Pokémon Video Games
Of course with all the Pokémon mania it's easy to forget that there are actually Pokémon video games for the Switch, Wii U and 3DS.
Pokémon amiibo
These Pokémon amiibo are lovely to look at and also useful in Super Smash Bros, as well as a range of other games too. Try them out in Kirby: Planet Robobot to see what happens!
Pokémon Trading Cards
If collecting amiibo wasn't expensive enough, try your hand with these Pokémon cards. The Pokémon Trading Card game has been going for years but it shows no signs of flagging.
Pokémon Toys
Whether you want an Ash figure for your desk at work or an authentic Pokéball to throw around the house, we've got something for you here.
Pokémon Plushies
Everyone loves something soft and cuddly to snuggle up to at night, so why not pick one of these adorable Pokémon plushes?
---
We're sure you'll agree these are lovely Pokémon related items, have we missed anything? Drop a link below.