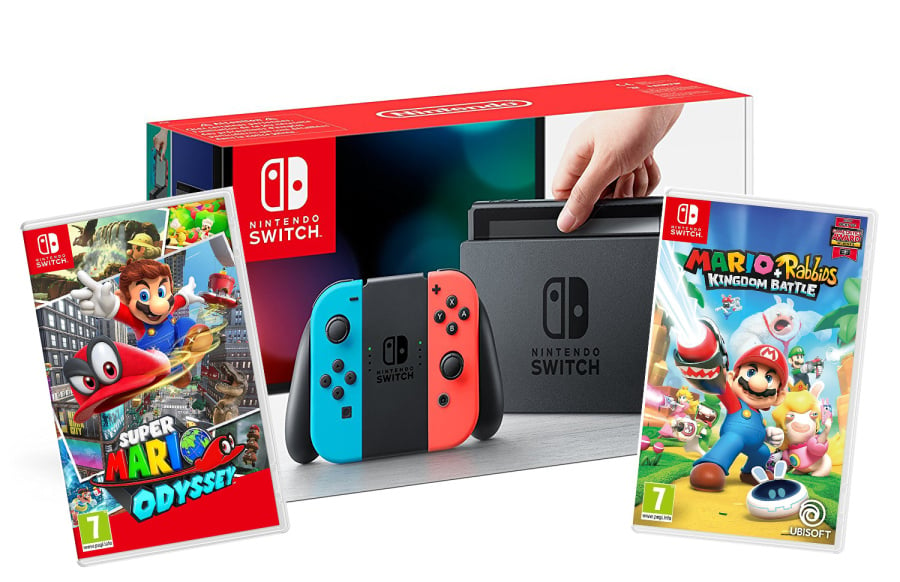 Update: The deal is now 100% claimed. Thanks for playing. The only deal that remains is Nintendo Switch with Mario + Rabbids for £279.99
---
Are you exhausted from all the excitement of the Black Friday sales dear reader? Well the fun isn't over yet, today is Cyber Monday and the deals just won't stop.
One of the most popular Black Friday deals in the UK this year was a Switch bundle with Super Mario Odyssey for £279.99. So popular it sold out almost as soon as it was made available.
If you missed out, we feel your sorrow. But Cyber Monday will bring you a even better bargain. For only £299 you can get a Nintendo Switch with Neon Joy-Con along with a copy of Super Mario Odyssey and Mario + Rabbids Kingdom Battle. We've added it all up, and bought sepately this lot would cost you £359. So you are saving £60 and getting two great games to boot.
This Amazon UK lightning deal will appear at 10am UK time on Monday 27th November. We recommend that you click the link above a few minutes before 10am and keep refreshing Amazon's page until the deal appears... as it is likely to sell out in a matter of minutes.
If you already have a Switch, then here is another Cyber Monday deal which you might appreciate. You can buy this 128GB Micro SD card to boost your Switch internal memory at the discounted rate of £31.99 today. That's a sweet 30% saving.
Good luck and let us know if you managed to grab this amazing deal with a comment below.