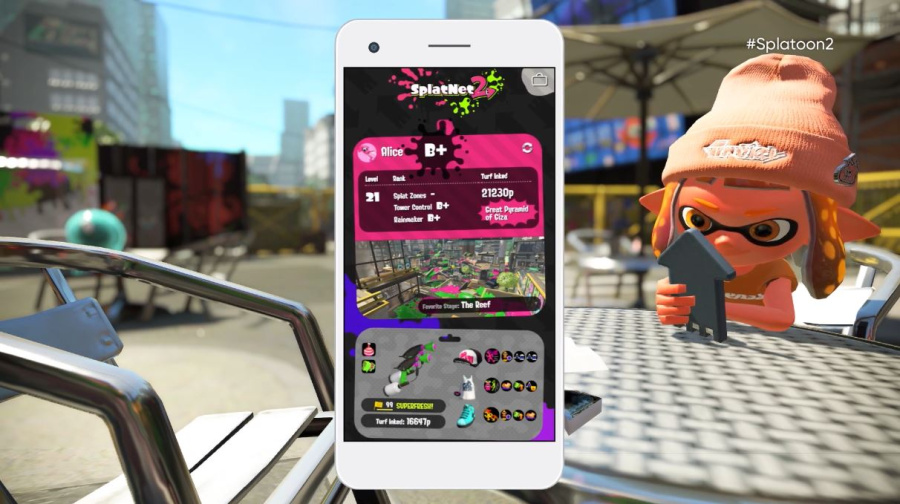 During today's Splatoon 2 Direct we got some new details on the game, along with a brief glimpse of the Nintendo Switch Online app for smart devices, and 'SplatNet 2' which will also tie into the service; remember it'll be free for everyone this year.
As you can see below, the online app will allow players to hook up for online play, including voice chat. The SplatNet 2 part of the app will also link up with your in-game data - you can see stage and mode schedules, check up on your play stats and even pick up gear with the in-game currency.
When the Nintendo Switch Online app launches for smart phones on 21st July, players will also have access to SplatNet 2. This Splatoon 2-specific service helps players stay in touch with Inkopolis even when they are away from their Nintendo Switch systems. SplatNet 2 displays information like stage schedules, gear and stats, and even lets users view their Lifetime Inkage, a feature that shows how much turf a player has inked compared to real-world places. The Nintendo Switch Online app allows users to invite other players via social networks and messaging services to join Private Battles, League Battles, Splatfest Battles, and Salmon Run events, and communicate with those players using voice chat.
It'll be interesting to see how it all performs in practice, and how much Splatoon 2 players decide to use the service.
What do you think of the Nintendo Switch Online app and SplatNet 2?