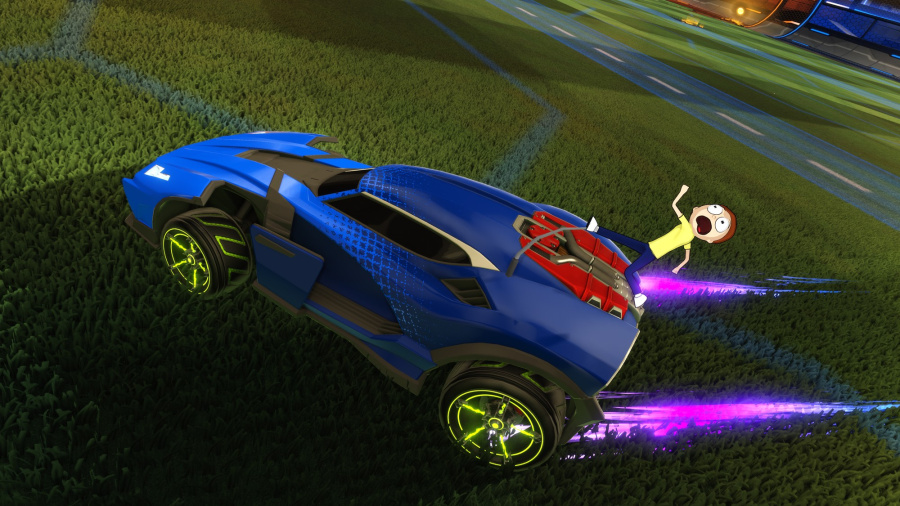 One of the fun features of Rocket League is the whole wealth of cosmetic features with which you can customize your car. Virtually every aspect of the car's body can be tweaked or colored or decaled which leads to some pretty diverse matches between teams. Psyonix has been keen to keep the game updated with new stuff to decorate your car with, regularly partnering with other franchises to widen the lineup considerably.
Today, the studio revealed that it's partnered with Adult Swim Games to bring gear from the popular cartoon Rick and Morty to Rocket League. Considering the sci-fi theme of the show, it seems to be a pretty good fit for this game, and this merchandise will no doubt prove quite popular with the online community. And fortunately, the developers have confirmed that this new gear will also be coming to the Switch version when it launches later this year. Here's what the post had to say:
Thanks to our friends at Adult Swim and Adult Swim Games, Rick and Morty (with friends in tow) will be available as FREE customization items starting on July 5. Rick and Morty will be available as Antennas, along with 'Cromulon,' 'Mr. Meeseeks,' and 'Mr. PBH' Toppers, an 'Interdimensional GB' Rocket Boost, and some familiar-looking 'Sanchez DC-137' Wheels. Bonus: the 'Cromulon' Topper can drop as a Painted item!
What do you think? Are you a fan of Rick and Morty? What kind of Nintendo-themed DLC would you like to see in the Switch version? Share your thoughts in the comments below.