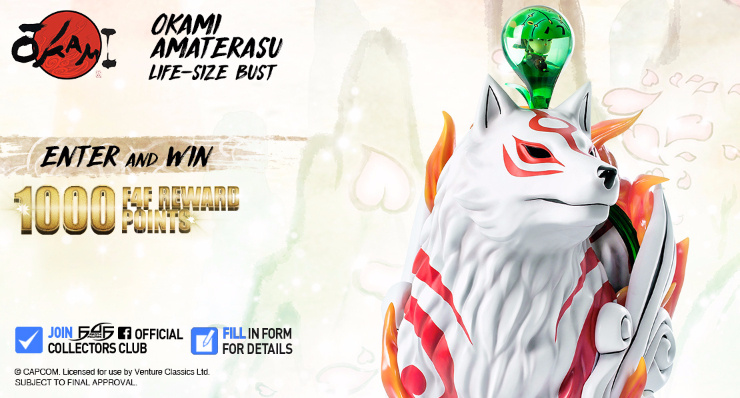 Maker of high-end collectibles First 4 Figures has announced that once again it is partnering with Capcom to bring together a life-sized bust of Amaterasu from the world of Okami. The enormous statue is the largest the company has ever created with a height of 67 cm and width of 41 cm.
As with the all First 4 Figure statues there will be a regular version and an exclusive version - The latter version will include multiple LED lights to represent fire on the beast's back. Opting for the exclusive version also entitles you to a "manual turntable" to help show off your figure in all its 360 degree glory.
As you would imagine the collectible is not the cheapest of items, with the pricing structure lining up as follows:
Amaterasu Exclusive: $724.99 (£561.22 approx)
Amaterasu Regular: $674.99 (£522.22 approx)
In the meantime the company has put up a making-of video giving extensive details of the product.
The Amaterasu life sized bust can be pre-ordered on Tuesday 2nd May, with a live stream taking place beforehand to celebrate the release:
LIVE STREAM Starts:-
2nd May - 7:00am (California), 10:00am (New York),
2nd May - 3:00pm (London), 4:00pm (Germany), 10:00pm (Hong Kong)
PREORDER LAUNCH starts 1 hour later at 11:00pm (Hong Kong)
Will you be placing an order for the Amaterasu Bust? Would you have any space for the giant?
[via apps.facebook.com]