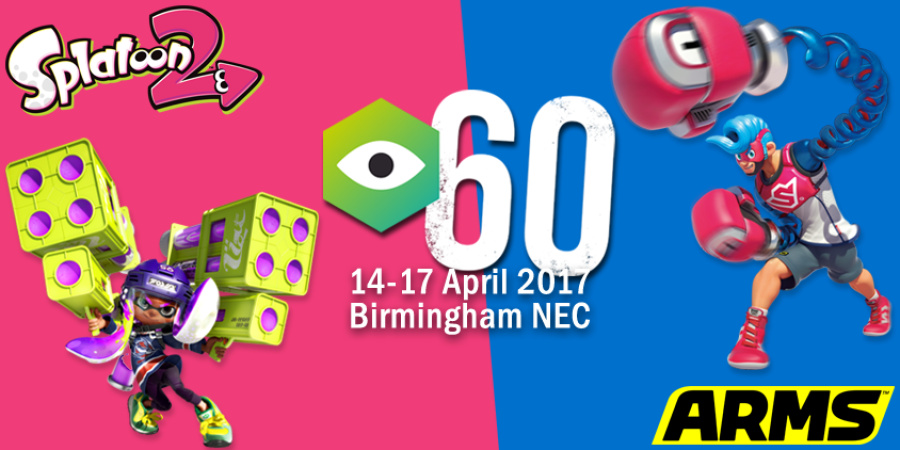 Nintendo UK will be bringing the big guns to Insomnia60, the UK's biggest gaming festival this year. Taking place from 14th-17th April 2017 at The NEC Birmingham you'll be able to try out upcoming Nintendo Switch games such as ARMS, Splatoon 2 and Mario Kart 8 Deluxe. Of course if you haven't yet picked up a Switch yet, then it's a good chance to try out The Legend of Zelda: Breath of the Wild on the system, too.
Speaking of Zelda, on Sunday 16th April there will be a whole host of The Legend of Zelda-themed activities throughout Insomnia60. For the first time the festival will have an orchestral concert on that evening - The Legend of Zelda: Symphony of the Goddesses will feature "a full symphony orchestra performing over 30 years of music from The Legend of Zelda franchise".
Other themed activities on that day will include stage competitions on mini-games found in The Legend of Zelda: Breath of the Wild, a quiz and a special The Legend of Zelda Cosplay Masquerade that will take place on the Insomnia Expo stage. Further details from the PR are below.
Some of the biggest titles for the Nintendo Switch will be playable throughout the duration of the show at the Nintendo Zone, including ARMS, Splatoon 2, Mario Kart 8 Deluxe and The Legend of Zelda: Breath of the Wild. The Nintendo Zone will also feature a Nintendo dedicated stage where a variety of gameplay demonstrations and spot-tournaments for games such as Ultra Street Fighter 2: The Final Challengers, Snipperclips – Cut it out, together!, 1-2-Switch, Super Bomberman R and more will take place. Each day of the show will host a unique schedule.

Tickets for Insomnia60 can be purchased at https://insomniagamingfestival.com/. Using promo code 'INSOMNIANINTENDO' will entitle attendees 10% off all day tickets!

The Symphony of the Goddesses performance is ticketed separately to the main Insomnia60 festival, and you can check full tour dates and purchase tickets at http://zelda-symphony.com/.
Are any of you tempted to head along to Insomnia60 next month to try out some Switch games?