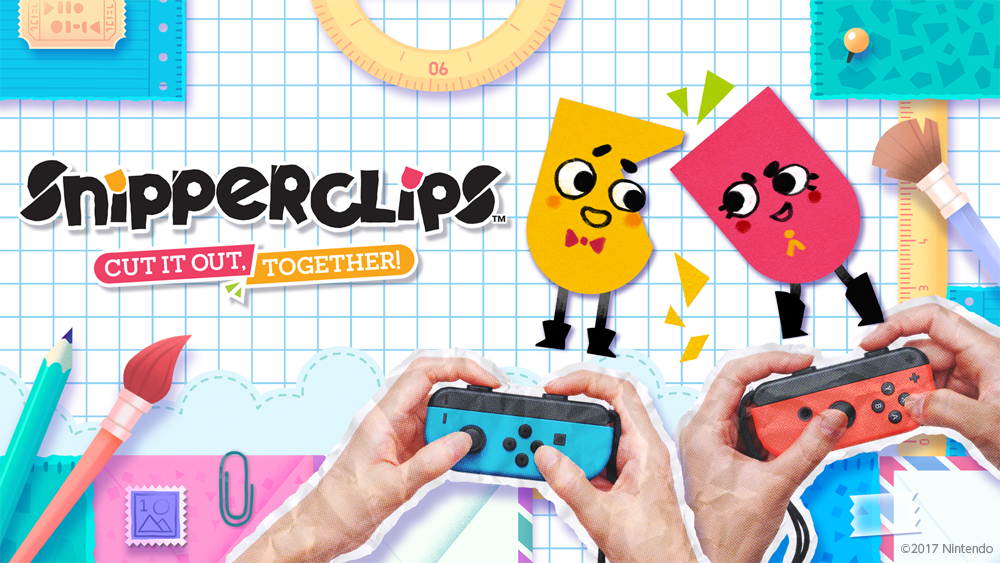 When it comes to the launch day and more general 'March' line-up for the Nintendo Switch, there are a few obvious high-profile releases that are getting plenty of attention. As we made clear in our first impressions article, however, some in our team left January preview events with a slightly unhealthy obsession for Snipperclips - Cut it out, together!, a quirky eShop title being published by Nintendo. Still listed for March without a precise date, its US price looks set to be $19.99.
When it comes to selling the Switch concept, different games have various strengths. 1-2-Switch is, so far, the best way to showcase the Joy-Con controllers and their wonderful little tricks, such as the impressive HD Rumble. The Legend of Zelda: Breath of the Wild looks set to have its best version on the new system - also playable on the go of course - and the upcoming ARMS focuses on motion controls. Snipperclips doesn't do anything fancy with the Joy-Con, but simply shows the joy of a portable system that comes with two controllers right off the bat.
Of all the games our initial UK duo played over a four hour session in January, this game felt like it delivered the most 'Nintendo' moment, right at the end of the day.
It's Snipperclips that, for this writer, best communicated the true selling point of Nintendo Switch - the way its play-anywhere setup can enable quick and ridiculously fun play sessions with friends. Sitting within elbowing distance, looking onto the console's screen and co-operating in a somewhat dysfunctional way was true gaming fun - simple, clever, and enjoyable. It's a silly and charming game, demanding teamwork while also utilising its core snip mechanic and physics to allow teams to solve puzzles the 'wrong' way.
The demo we played simply said 'copyright Nintendo', and our impressions were written bleary-eyed in an airport not long after its reveal, picking up information from Nintendo's official game page - published by Nintendo, developed by Nintendo.
As some of you pointed out, though, that's not the full story. Nintendo has clearly acquired the rights to the IP, but various senior executives have also cited Snipperclips as an example of how the Switch allows for accessible Unity programming for small third-party teams. The team behind the game, and now working with Nintendo, is SFB Games.
SFB Games consists of UK-based brothers Tom Vian and Adam Vian; for around a decade before forming the studio - with a hiatus for studies - the siblings produced a broad range of online games as The Super Flash Bros. In 2012 SFB was born, and as you can see the duo have been busy with multiple intriguing releases on smart devices, PC and Mac. That official site, though, makes no mention of Snipperclips, with the tweet above being one of the few nods made to the brothers' involvement; after all, it's now an IP owned by Nintendo.
The game was seen in 2015, though, with the broad style in place - it was called 'FriendShapes' at that stage. It was spotted in the Indie area at EGX 2015, and the brothers had previously appeared at Game Developers Conference Europe in early August 2015 as part of an Indie showcase. Their presentation is below - it's an early version of the game so the wacky facial expressions of the shapes aren't yet a feature; this is after eight days of development.
This segment stands out, and likely demonstrates why Nintendo took an interest.
Whilst we're planning to build out a full single player campaign, we're focusing mostly on the co-op at the moment. It's built in flash, but we're going to port it quite soon to Unity, because we think it's going to be really at home on a console where local multiplayer just works a lot better. We have a ton of ideas for local multiplayer levels.
Of course, that's happened with the title since making its transition to Switch. Nintendo's system is an ideal home for its blend of anarchic local co-op, of course, as it's a rare instance of a console with two controllers right out of the box. SFB Games produced a simple but clever idea that could have conceivably been a 'typical Nintendo' game, which speaks well to the talents of the two brothers.
This isn't the first time that Nintendo has found and adopted / published quality Indie efforts, of course - examples include Curve Digital's Hydroventure games (WiiWare and 3DS eShop) and even go as far back as the quirky Bonsai Barber. Though there's always room for more support like this, it shows that the big N does remain open to picking up small and smart projects.
We're looking forward to playing the final version of Snipperclips - Cut it out, together!. It's a typical Nintendo game, even if on this occasion it's from the creative minds of two brothers in the UK.