Its been 30 years since the first Dragon Quest game was released in Japan, and Square Enix has teamed up with Lotte Co. Ltd. in Japan to sell special Dragon Quest themed gum, released earlier this week, and is holding a giveaway contest to go along with it.
The gum, which comes in "Blue Slime" and "Metal Slime" varieties has a minty lime flavour to it. Slime, lime, get it? The packaging is cool in every little detail. There's the famous black box menu text on the outside box, and the inner gum wrappers can be used to make a small blue or metal slime when you're finished. There's no way that throwaway gum could be any cuter! One pack costs 130 yen, which is about £1 / $1.30.
Lotte Co. Ltd is also holding a special contest for the next few months that has some very special prizes. There is a quiz contest, where you must email the answer to a simple question about Lotte gum to enter. There are 3 grand prizes in all. The first one is called the "Chimaera Wing" , a clever name for air travel vouchers. Then there's the "Giant Mini Medal" which is a replica mini medal 13 centimeters in diameter and 14 karat gold. The other grand prize is a giant Metal Slime statue that is 100% silver and weighs 20 kilograms! Each grand prize is valued at one million yen, which equals roughly £7,500 / $10,000.
There are small prizes as well, based on sending in proofs of purchase, which include Blue Slime coffee mugs, figures, a replica Loto's Helmet USB speaker and cashcards usable across Japan. Even if you don't win those, don't feel down, because at participating shops while supplies last everyone who buys 2 packs of the Slime flavoured gum will receive a plastic file that features some very cool artwork from various Dragon Quest titles.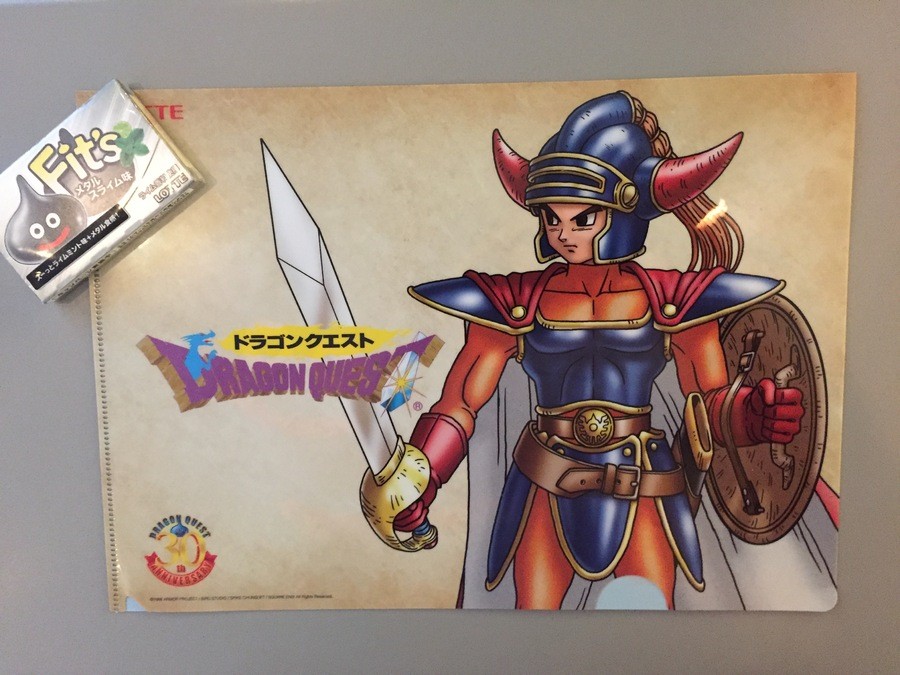 You can check out the Japanese website if you like, and if you're in Japan it's certainly a promotion worth chewing over.