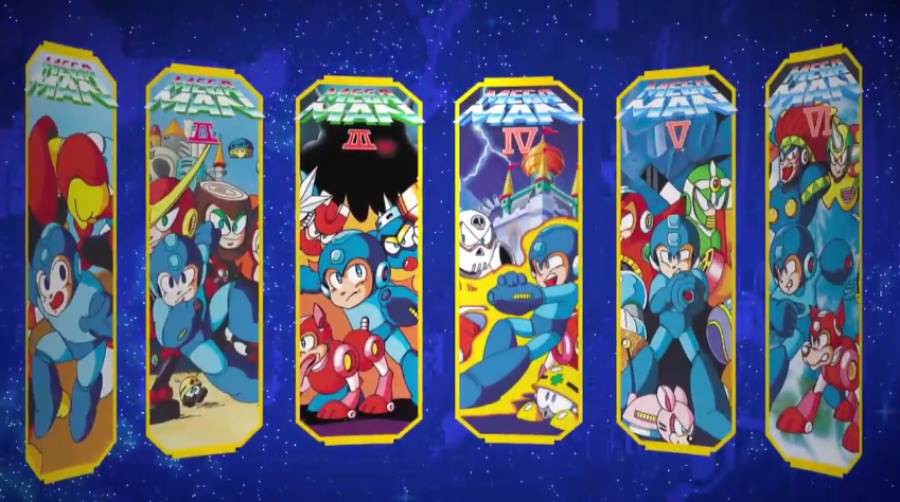 Mega Man Legacy Collection is a slightly strange release on the 3DS - not so long ago Capcom released all six original 'classic' style NES games on the 3DS eShop as individual Virtual Console offerings; now you can play them again in a collection that throws in a Challenge mode and a Museum section to view artwork. For those that bought them all previously, though, it's still a tough sell.
One neat feature on the 3DS is that the Mega Man amiibo will unlock eleven "exclusive remix challenges", and in North America that's also led to confirmation of a special Gold Mega Man amiibo that'll launch in the region. As a physical retail release it'll be $29.99 for the game alone and $49.99 for a collector's edition (US prices) including the new amiibo.
In Europe, though, those options - nor the gold amiibo - won't be available. It's download-only in the region, but a fresh trailer from Capcom UK - or the video's description, to be more accurate - does at least show that gamers in the EU will get a bargain price. It'll be €14.99/£13.49, which is a good bit cheaper than in the US; considering the normal rate for VC NES games on the 3DS (including the aforementioned Mega Man releases) that's a pretty good price for six games and some extra features. This also matches up to the PS4 versionthat was also download-only in Europe.
You can see the relevant trailer below - as for those of you in Europe, does that pricing ease any disappointment over the lack of physical retail options?
Thanks to Benson for the heads up.
[via perfectly-nintendo.com]