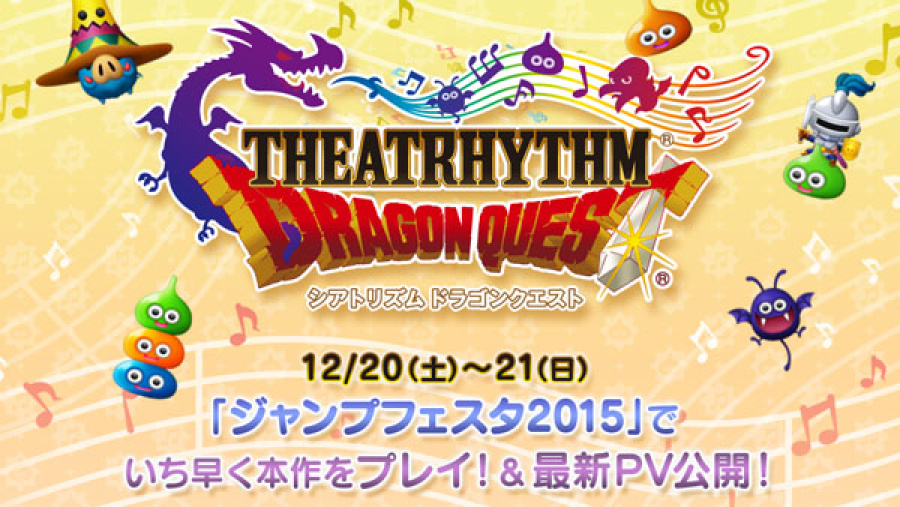 Square Enix's Theatrhythm: Final Fantasy games have been a commercial and critical success for the company, taking the legendary tunes heard in the million-selling series and placing them in an incredibly compelling rhythm action context.
Given that Theatrhythm Final Fantasy: Curtain Call has pretty much mined the entire Final Fantasy music library now, it's only logical that Square Enix should look to its other massive RPG franchise for further success. And that's exactly what has happened; Theatrhythm Dragon Quest has just been announced in Japan, and will perform very much the same trick but with audio and characters lifted from the Dragon Quest lineage.
The teaser site is already open and the game is expected to launch in Japan on March 26th, 2015. It will retail for 5,800 yen (plus tax) and will be playable at the Jump Festa event due to be held next weekend.
Dragon Quest is massive in its native Japan — perhaps even bigger than Final Fantasy — but it arguably isn't as renowned for its music. It's also not as popular here in the west, which could potentially scupper any chances of a North American or European launch — Square Enix has already stated that Dragon Quest VII might not appear outside of Japan due to doubts over its commercial viability.
We hope that a western release of this new music title is on the cards, but would you pick this up if it happened? Let us know with a comment.
[via gematsu.com]