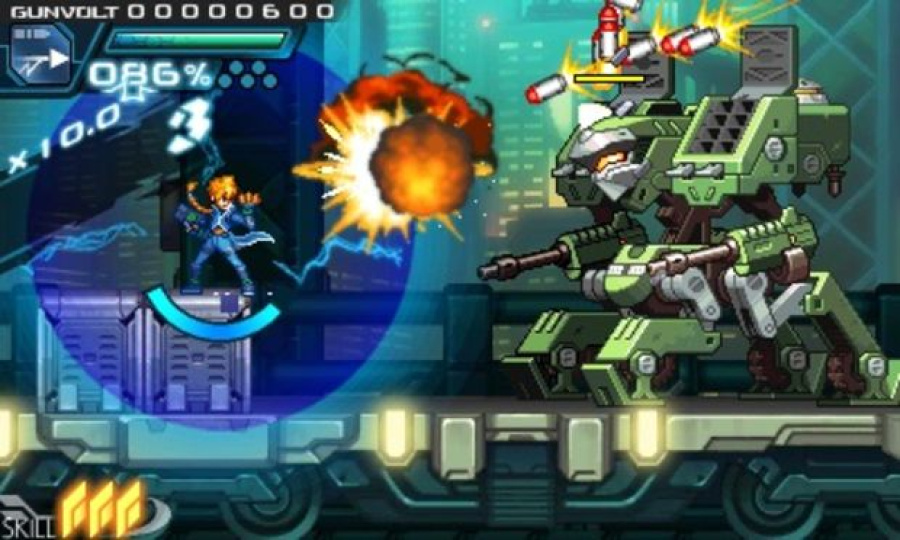 One month ago, Japanese studio Inti Creates announced it's collaborating with Mega Man creator Keiji Inafune on a new futuristic action-platformer for the 3DS eShop, titled Azure Striker Gunvolt. We still haven't heard anything about a firm release date outside Japan for the game [article updated to reflect NA confirmation of eventual release] but today Inti Creates launched an English-language version of the official Azure Striker Gunvolt website.
It's fairly basic, with information on Azure Striker Gunvolt's characters and backstory, along with a few screenshots and pieces of concept art; there's even an official English-language logo for the game. The product information page states "Rating: ESRB Rating Pending", which suggests that Inti has indeed submitted the game to be reviewed by the North American ratings board. This gives us hope that Inti's plans on bringing the new title to Western shores are progressing, in order to keep us busy while we wait for Inafune-san's highly-anticipated Mighty No. 9.
Azure Striker Gunvolt hits the Japanese 3DS eShop this summer.
[via gonintendo.com, gunvolt.com, twitter.com]