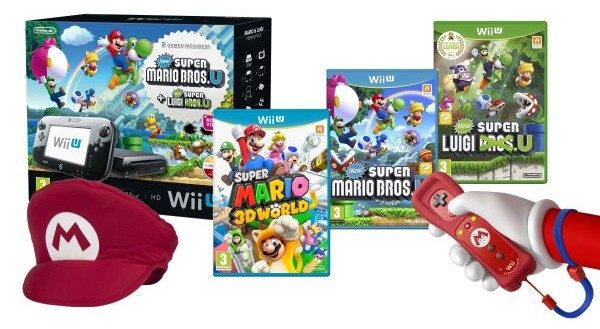 A week has passed since the actual Black Friday, and in a slight departure from convention all but Sony have been quiet on firm figures; in that respect we know little (in terms of reliable data) about the Wii U's performance in the festive shopping season to date. It is becoming clear that Nintendo's marketing approach towards families may be working positively, however, especially with some high-profile mainstream outlets such as TIME highlighting the system's positives as an affordable new console.
A combination of factors seem to be getting the Wii U into consumers minds, in that respect, with retail group Rakuten (which owns Play.com projecting a strong Holiday season for the system. The company has conducted analysis on social networks and determined that the Wii U — alongside the iPad range — are "the most talked about presents for children this Christmas".
The marketplace's social media analysis surprisingly showed that the brand new PlayStation 4 and Xbox One consoles are trailing in second and third place respectively behind the Wii U and iPad.

This is despite the fact that both new consoles sold out on Rakuten's Play.com during Black Friday, which have since been restocked. It appears that those on the hunt for the latest consoles are gamers rather than consumers buying for their loved ones.
The retailer states that the Wii U enjoyed a 75% sales spike in October, though UK-based source MCV observes that, based on the data it's seen to date, these social network metrics are yet to be "especially representative of the overall market."
Yet still, the shopping season is far from over, and while the UK seems to be a particular struggle for Wii U at present it may be enjoying better fortunes in North America, Europe and elsewhere, including Japan.
Perhaps Nintendo's family focus will pay off in festive sales in the coming weeks as consumers make final purchasing decisions. We'll see, but at least the game isn't over for 2013 quite yet.
[via mcvuk.com]