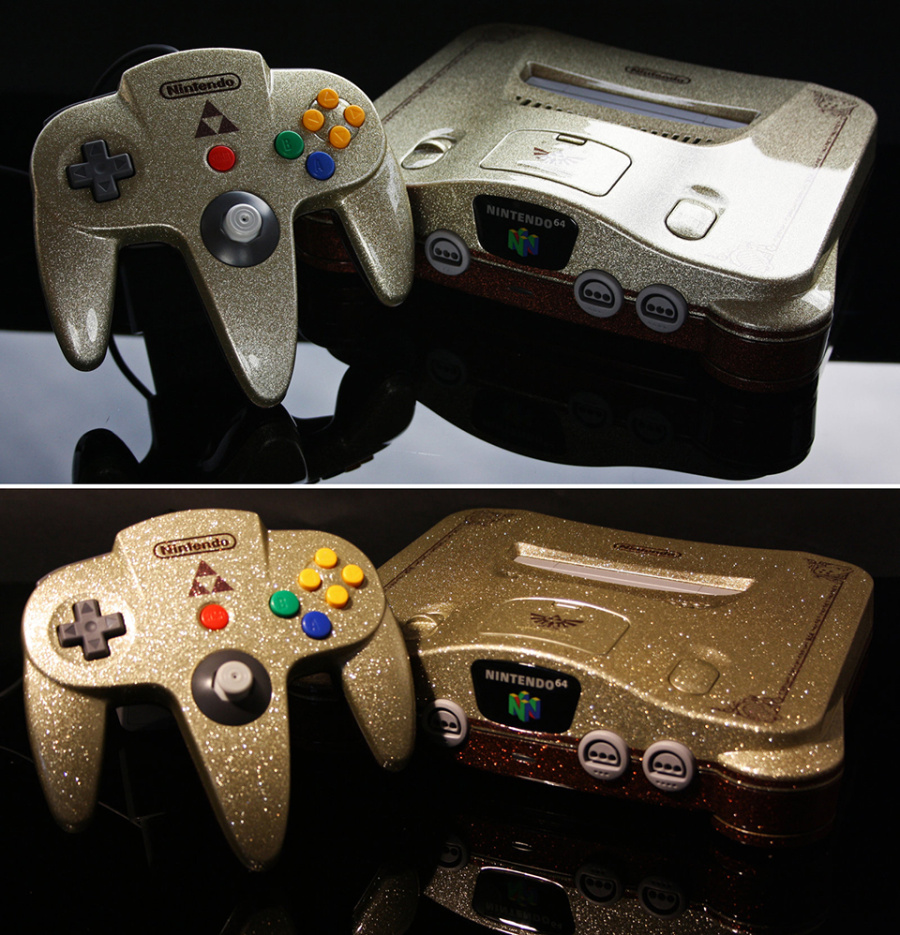 You may recall that earlier this week we shared with you a rather nice looking Zelda-themed SNES that was created by Slovenian console artist, Zoki64. Well, he's just added some more pictures to his portfolio, this time showing off a new Zelda-inspired N64 design, and one which looks so good that even the Goddesses of Hyrule themselves couldn't have done a better job.
In true keeping with Nintendo's obsession of coating almost every Legend of Zelda box art or game cartridge in gold, Zoki64 has opted for a gold metal flake finish complete with Hylian symbols and markings for his latest bespoke project. The system is two-toned, with the bottom sporting a slightly darker shade of gold. There's also a controller, which as to be expected features a good ol' Triforce on the front, and also appears to sport a newer GameCube joystick modification. As the image at the top shows, the system sparkles regally when placed under the spotlight.
Sadly, it isn't commercially available, as it was custom-designed for a customer. We can only hope that he or she will complete this retro Triforce by inserting a gold Legend of Zelda cartridge into the system — preferably The Legend of Zelda: Ocarina of Time Collector's Edition or The Legend of Zelda: Majora's Mask.
The video below provides a closer look at the custom-designed system. Do you like how it looks? Share your thoughts with us in the comments section below!
[via technabob.com]