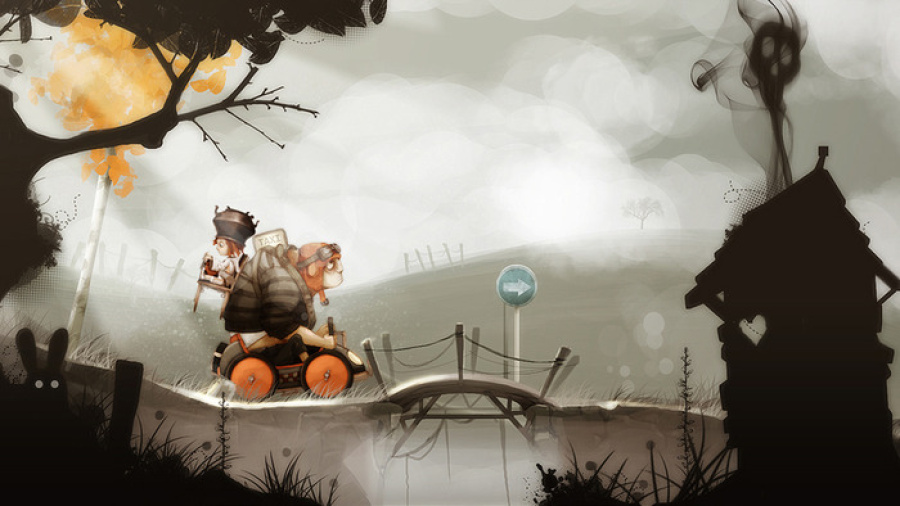 A new Kickstarter campaign has been set up by the small French developer Lexis Numerique for a unique little sidescroller called Taxi Journey, which it aims to release on Wii U and PC.
Pitched as an original adventure game with puzzle elements, Taxi Journey sees you embark on a four wheeled adventure in a universe that combines charm, darkness, humour and mystery.
On the face of it, the game takes inspiration from titles like Limbo or Machinarium but it features quite a lot of new elements that are pretty original.
For example, Taxi Journey centres around two characters, Gino and Zoey, and both of them have their own special abilities that you'll need to use to solve puzzles and progress. Gino drives the small pedal taxi and can bash through crates and use his umbrella to protect the duo from falling objects. He also has a magical fishing rod that catches reflections, leading to some interesting puzzle gameplay.
Meanwhile, Zoey can capture energy and sounds, meaning anything that needs electrifying can be charged up and puzzles requiring audio can be solved.
Lexis Numerique has a pretty good pedigree and has worked with Ubisoft, Disney and Namco Bandai on a range of titles, including the In Memoriam series on PC - known as Missing; Since January and Evidence in the US. It also worked on the educational series Learning with the PooYoos on WiiWare and a platformer called Tales of Elastic Boy.
The Kickstarter goal is set at $130,000 and it will come to Wii U and PC if funded. Stretch goals are already implemented and should they be reached there's a chance Taxi Journey will come to Mac, Linux, iPad, Android, PlayStation Vita, PSN and Xbox Live Arcade - though the goals for the latter three are quite high, $220,000, $270,000 and $320,000 respectively.
Check out the Kickstarter video below from Lexis Numerique and let us know what you think to Taxi Journey in the comment section.
Thanks to Ryan Millar for the tip!
[via kickstarter.com]