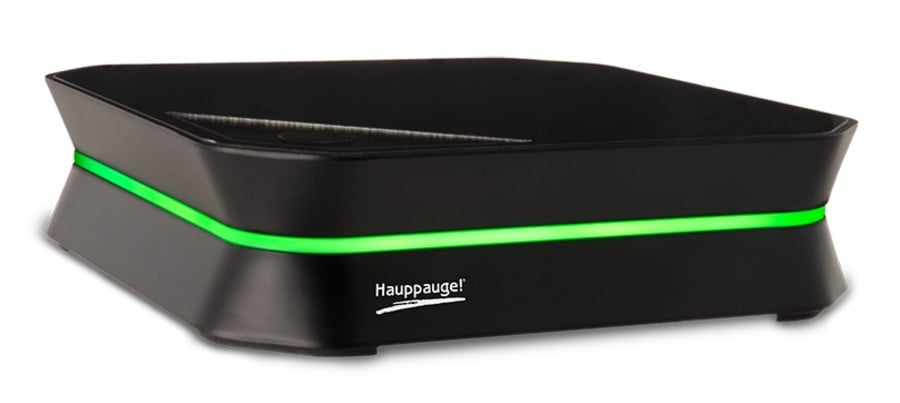 As we head further into this generation, sharing and social media is looking to be an increasingly large focus for Nintendo's competitors, with both the PlayStation 4 and Xbox One featuring their own built-in DVRs. Unfortunately, Nintendo's latest console lacks both the means and the oomph required for what is a resource hungry endeavour.
Aside from the promised ability to share short clips to Miiverse in the upcoming Mario Kart 8, the Wii U lacks a centralised, system-wide method for those looking to share their clips online, which has so far necessitated the purchase of a third-party capture card. At around £139.99, the Hauppauge HD PVR2 Gaming Edition Plus is one of the latest such devices on the market.
The unit itself is fairly sizeable, but it's attractive enough and it feels sturdy, though perhaps a little lighter than its dimensions would have you believe. Hauppauge products have always boasted a superior build quality to competing products, and the PVR2 GE+ continues that tradition.
There's also a handy physical record button on the top of the unit itself, which should prove particularly useful if you have both your console and PC plugged into the same TV. An illuminating strip runs around the outside of the unit, and it glows different colours to indicate the recording status. It also looks rather cool.
HDMI-in and HDMI-out jacks can be found on the rear of the unit and can accept signals of up to 1080p, as is to be expected from any modern capture card in this price bracket. One advantage the PVR2 has over its peers is the ability to record 5.1 surround sound via said HDMI input. An AV-in port allows you to hook up consoles via Component. S-Video and Composite support is also available via the purchase of an additional accessory, ideal for all those legacy systems.
The PVR2 GE+ is priced similarly to its closest competitors, yet it comes with everything you need to get recording, right off the bat. A rarely seen case of capture-card-manufacturer-generosity sees the Hauppauge come bundled with not one but two HDMI cables, and even a component lead featuring the proprietary PlayStation connector, useful for – shock and horror – capturing footage from the PlayStation 3, whose HDMI-out is of course HDCP copyright protected. The cost of cables is a factor that's often overlooked when deciding on a capture card, so it's nice to know that Hauppauge has you covered.
In terms of inputs, the PVR2 GE+ is pretty well equipped, though there's one input we'd like to see removed from its posterior entirely – a 6v power jack. The majority of modern capture cards are USB-powered, and with good reason. This particularly thirsty PVR, however, requires its own power supply.
On the flipside, this means that the signal passthrough is not dependent on USB power, and so you can play the console that's plugged into the PVR without the need for your PC or laptop to be turned on. Still, it's not a favourable trade-off in our opinion; a USB-powered card is a much more attractive option as it means one less power supply has to be plugged into your already-straining trailing wall socket.
The hardware takes a further blow when you consider that its optimal quality setting maxes out at a paltry 14MBps, lagging slightly behind the Roxio GameCap Pro HD (15MBps) and light years behind similarly priced offerings from Elgato, AverMedia and Black Magic (30/60/60MBps, respectively).
There are many capture cards that do a decent job on the hardware front, but they're all too often let down by the bundled software. The PVR2 GE+ is no different. The capture and editing software included with the Hauppauge is hugely limited, yet still manages to be horribly complex, unintuitive, and not exactly what you'd call user friendly. If you're in any way serious about editing, then you're left with no other option than to purchase third-party video editing software — Hauppauge's suite simply doesn't cut it.
We can say with complete confidence that the bundled ArcSoft Showbiz is one of the worst pieces of software we've ever had the displeasure of using. Not only is it ugly and unnecessarily convoluted, it's hideously slow. The record button on the hardware unit is good in theory, but in practice, it may as well not be there; there's a 30-50 second delay between finishing one recording and starting another. Not only that, but it takes a good five to ten seconds for the software to start capturing after you hit record, such is the sluggishness of ShowBiz. There's no chance of catching something spontaneously here.
Compatibility with XSplit and Wirecast is also hit-and-miss. There were times when the software recognised the device, but couldn't display a feed. Then there were times when XSplit straight up didn't acknowledge that the device was connected at all. Other times, it worked without a hitch. It was wildly — and maddeningly — inconsistent.
Delving further into the software issues, we found that exporting recordings as .mp4 files results in all sorts of strange artefacts, particularly on static images. Hauppauge insists that a fix is coming, but we're yet to hear any further comment from the company. StreamEez allows you to broadcast directly to Twitch or UStream using 'Low', 'Medium' and 'High' bandwidth presets, but again, the software is so horribly designed that you'll just want to stick with XSplit.
Perhaps the most egregious of issues, though, lies in Hauppauge's Personal Logo Inserter, which allows you to burn a watermark over your recordings. Once you've inserted your .jpg, .bmp, .png or .gif, the only way to resize it is to use the mouse cursor, which would be fine, except that there's no way to lock the aspect ratio. You can't enter a resolution or a percentage to resize the image manually, so you inevitably end up with a slightly squashed – or stretched – image. Alone, it's not a dealbreaker, but such a ridiculous oversight just sums up how poorly designed the entire software package is.
In short, the Hauppauge HD PVR2 Gaming Edition Plus is outperformed by its contemporaries in pretty much every area imaginable. Whether it's the need for its own external power source, the comparatively low bitrate, or the infuriatingly awful software suite, the PVR GE+ leaves much to be desired.