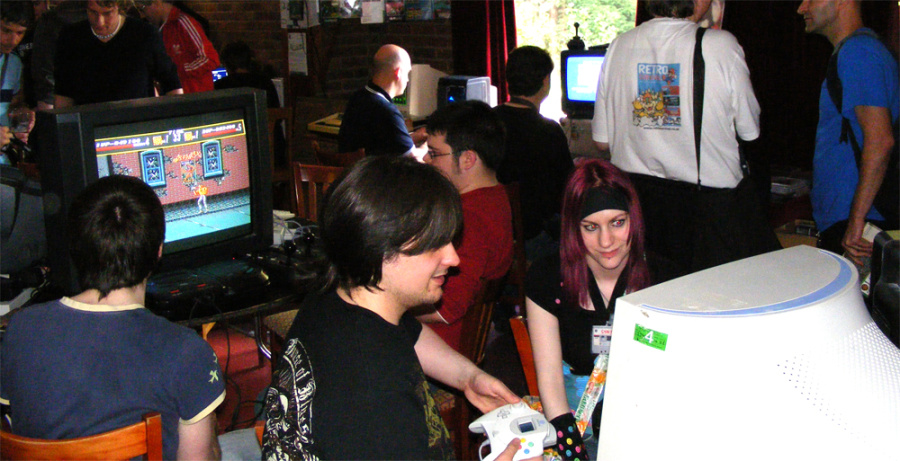 If you're based in the UK and have a soft spot for the games of yesteryear then you might want to look into buying a ticket for Revival.
The event — which is the successor to the popular Retro Fusion show — takes place on the weekend of May 18th / 19th at Wolverhampton Racecourse in the Midlands, and over a thousand visitors are expected during those two days.
We got chance to speak with organiser Chris Wilkins about the event.
Nintendo Life: How are preparations for Revival going?
Chris Wilkins: The plans for the event are progressing really well. Utimarc, who produce some great hardware for arcade cabinet building enthusiasts, have now sponsored the Revival event. We have also partnered with UK Vac who are a large body of arcade cabinet collectors/enthusiasts that will be overseeing the provision and maintenance of our arcade machines over the weekend of Revival.
Sega are also a confirmed exhibitor and will showing off their XBLA and PSN retro games such as After Burner Climax and Jet Set Radio. There will also be a couple of surprise games from them being shown as well.
NL: What big names from games development will be there?
CW: We will have having talks and presentations throughout the weekend of Revival. Philip Oliver will be talking about the industry and how it has changed since the days of Dizzy. We are bringing together a large contingent from Ocean Software – Bob Wakelin, Simon Butler, Jim Bagley, John Palmer, Lorraine Star, Paul Hughes, Colin Porch and more who will be involved in a Q/A session.
Other guests will include Archer Maclean, Anthony Caulfield who will be doing a talk on the retro movie of the year From Bedrooms to Billions, Mike Montgomery of the Bitmap Brothers and more.
NL: Can you tell us a little about the venue itself, and the layout of the event?
CW: The venue is the full ground space of the Wolverhampton Race Course at Dunstall Park – that is a whopping 1400 square metres and is across three areas.
Visitors will enter the event through 'The Concourse' entrance. To the right is a fairly large bar/eating area for visitors to chill out in - there will be some handhelds and cocktail cabinets to play on whilst you have a drink and a bite to eat. As you move into the Concourse expect to see 'The Centre for Computing History' exhibiting a large number of retro multiplayer systems for visitors to play on as well as many rarer items like the Atari Falcon. Also in this area will be the guys from Jagfest, Amibay and Retro Gamer's very own Jason Kelk showing off many of the latest homebrew titles.
The next area is called 'The Chasers Lounge'. This will be the home of the Sega area, Surface Tensions' chill-out zone where visitors can play on many of the deluxe cocktail cabinets that the guys produce and our exclusive Virtuality machine — there is a chance there maybe two of these.
Moving into the main gaming room, 'The Ringside', expect to see 60+ arcade cabinets, pinball tables and The Retro Computer Museum who will be bringing 100 or more retro systems to play on, 16-player Halo 2 and Turnarcades with their bespoke MAME cabinets.
Littered throughout the venue will be what we call zones – a selection of retro systems grouped together to represent a genre. There will zones covering Platform, Shoot Em Up, Fighting, Racing and so on.
We also have some great representation from traders throughout the venue – Attic Bug, Ultimarc, Rockrabillia, Retro Rehab, Binary Zone Interactive, Retro Video Games, Retro GT and more. There will be a huge selection of gaming systems and games to purchase at show prices.
Thanks to Chris for taking the time to speak with us!
[via revivalretroevents.com]