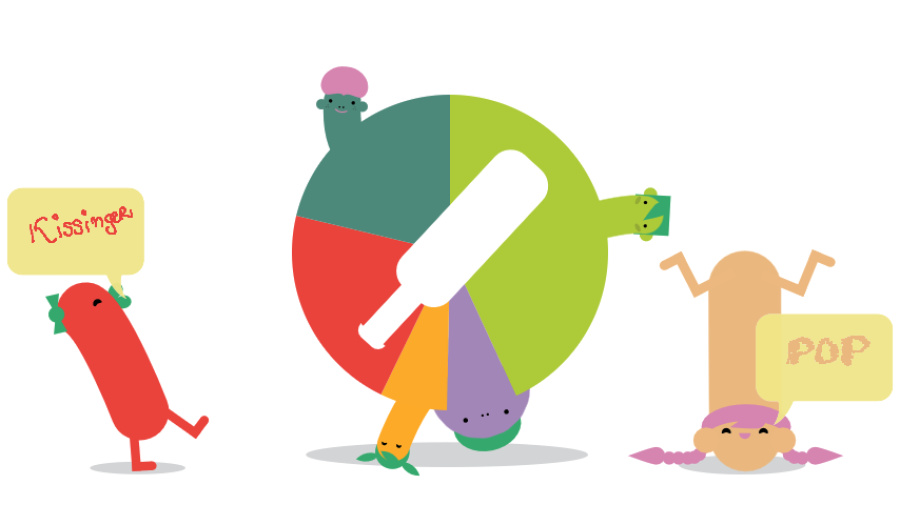 The upcoming Wii U eShop party game Spin The Bottle is unlike any game you've ever played before. Coming from the quirky minds at KnapNok Games, most of the activities you'll encounter in Spin The Bottle don't even use a TV screen. Players use the GamePad as a spinning wheel (think Twister) and act out whatever odd activity they're prompted to perform. KnapNok recently previewed Spin The Bottle at the Official Independent Drinking Games Summit, an event organized by the experimental game development circle, the Copenhagen Game Collective.
While titles that have emerged from the Copenhagen Game Collective don't typically lend themselves to mainstream release, Spin The Bottle is decidedly innocent, with the only awkwardness coming from the players' actual experiences playing. Older players will likely enjoy the game after loosening up a bit. Dajana Dimovska, co-founder of KnapNok Games, explains the developer's design philosophy to Eurogamer:
If nudity or this physical closeness were considered a sexual thing it would just not happen. Because then it's a different setting. It's not like 'oh, I'm naked I want to have sex with someone.' That's not the case at all. 'I'm naked. I'm having fun,' is the approach.
This isn't to say that Spin The Bottle involves nudity. Despite showcasing the game at a "Drinking Games Summit," Spin The Bottle can be enjoyed by any age group. One of the minigames, "Hide the Monkey," involves two players each hiding a Wii Remote behind their backs and the others trying to guess who has it, with a bonus challenge allowing players to tickle the players who are holding the Wii Remotes.
Spin The Bottle is definitely shaping up to be one of the most unique offerings on the Wii U. Are you planning on trying out this wacky party game? Let us know in the comments section.
[via eurogamer.net]