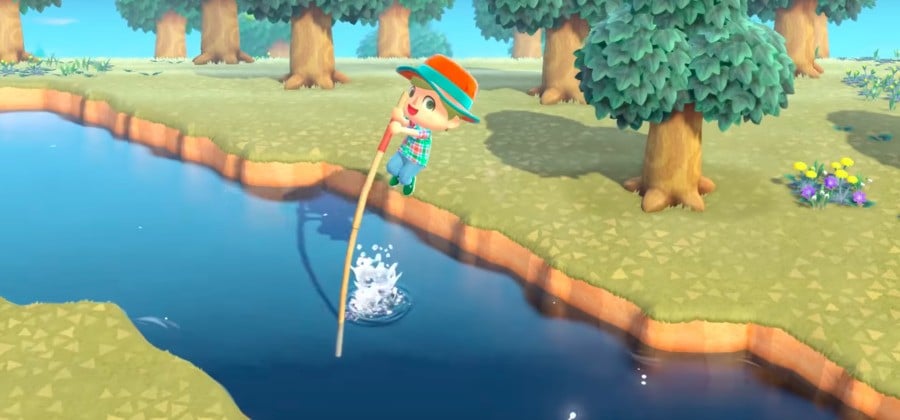 Animal Crossing: New Horizons has loads of lovely rivers in it, but there's one big problem – because there are no bridges, you can't cross them without the proper gear.
That gear is the Vaulting Pole, which is an item you'll want to get your grubby hands on as soon as possible.
As with the main tools including the axe, shovel and ladder, the Vaulting Pole is an item you have to create yourself using the game's crafting system, and here's how you do it.
Animal Crossing: New Horizons How To Get The Vaulting Pole
Like other craftable items in New Horizons, you'll need the recipe before you can actually make a Vaulting Pole. To get this, you'll need to speak to Blathers, who won't appear until you kick off the process of building the island's Museum.
Once the museum is constructed, speak to Blathers and he will give you the Vaulting Pole recipe – the reason being that he wants you to collect fossils for his collection.
With the Vaulting Pole recipe in hand, you can now go about actually making one. To do this, you need to collect 5 pieces of softwood from around the island.
Once you've collected all of that, visit a crafting bench and you'll have the option of making a Vaulting Pole of your very own. Congratulations! You can now cross rivers with ease, and in style!
---
This article is part of our Animal Crossing: New Horizons walkthrough, which covers How To Fish with Complete Fish List and How To Catch Bugs with Complete Bug List. If you're looking for specific fish we can tell you how to catch the elusive Coelacanth, Stringfish and Golden Trout, along with a list of Fish And Bugs leaving at the end of May and Best Custom Design Codes we've found so far. We can also help with How To Make Bells Fast, How To Get An Axe, using the Star Wand, Tool Ring, Rock Trick, How To Cut Down And Move Trees, How To Upgrade Nook's Cranny and How To Get More DIY Recipes.
And finally Where To Buy Animal Crossing: New Horizons On Nintendo Switch if for some reason you haven't yet picked up the game.