Description will appear here shortly...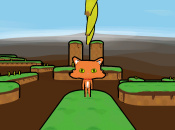 Could this be a purrrfect platform adventure?
If you liked Super Mario 3D World's feline transformation then you'll be like the cat who got the cream when you hear about CW Games' new title. The indie studio has revealed that it is bringing its furry 3D adventure Flavoured Cats to the Wii U eShop, a game inspired by Super Mario 3D World and Super...
Hold on there, you need to login to post a comment...