What happens when Cyberpunk apocalypse roguelike meets RTS in pixel art? C-Wars!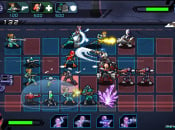 All stretch goals hit, including "Cyber-Lover Mode"
Earlier this week we reported that the developers of C-Wars had been approved as 3DS developers, while its Kickstarter fundraiser was close to its 3DS stretch goal. The good news is that the game isn't only coming to 3DS, it's coming to Wii U as well. The real-time-strategy title, that
Hold on there, you need to login to post a comment...