Description will appear here shortly...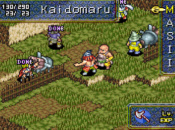 Game Boy Advance strategy spin-off is getting a second chance
Thanks to a rating on the Australian Board of Classification, we can reveal that Capcom's 2003 Onimusha spin-off Onimusha Tactics is coming to the Wii U Virtual Console. Based on the popular Onimusha series of action titles, this Game Boy Advance release takes place on a grid-based...
Hold on there, you need to login to post a comment...