Description will appear here shortly...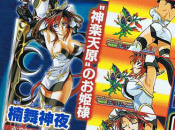 Features robots and large breasts, in that order
Fans of obscure Japanese RPGs should rejoice - Famitsu magazine has recently revealed that Nintendo's Monolithsoft is working with Banpresto to create a new title called "Infinite Frontier Super Robot Wars OG Saga". I'm sure you'll agree, that's quite a mouthful. Coding duties are being handled by Terada-san, who is responsible for the..
Hold on there, you need to login to post a comment...