Description will appear here shortly...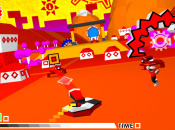 Prepare for more 3D explosions than ever
Capcom, Konami, Nintendo and other big-name studios are all hard at work bringing some of their big name titles to the 3DS, but that's not to say the smaller developers are going to be left behind. Bplus, of Niki - Rock 'n' Ball and Bit Boy!! fame has just announced it will be bringing Vektor Tank 3D+ to 3DS in Q2 2011. The first scree
Hold on there, you need to login to post a comment...