Description will appear here shortly...
Here's some footage taken from the demo version of Arc System Works' saucy 3DS RPG Stardust Amazoness. What you see you cannot un-see. You have been warned. Check out our other coverage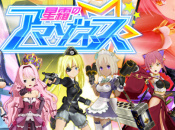 Arc System Works swaps fighting for dungeon-crawling in this saucy RPG
Arc System Works may be famous for the Guilty Gear and BlazBlue series of fighting games, but the company is broadening its horizons somewhat with dungeon-crawling 3DS RPG Stardust Amazoness. Starring an all-female cast trapped in a futuristic prison complex, the game showcases...
Hold on there, you need to login to post a comment...