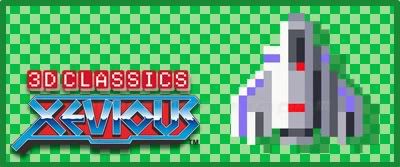 Alright, so here's a blog to talk about the newest 3D Classic: Xevious. I'm surprised it came out in the US eShop at the same time, so anyone will be able to put their thoughts of it here.
My thoughts about the game so far is that the 3D is immensely used in the game. The distance from the background and the very eye-popping foreground almost looks like two transparant images. I mean as in, when playing the game and viewing on the foreground because most enemies fire and the Solvalou being displayed there, you will have to switch looking from the eye-popping display to the very background where ground-based characters will also be a very critical enemy to you. While you can easly put the 3D off (which in my opinion makes the game easier, but not so affective.), you can also use the 3D Classic Options to even adjust the 3D to an even more powerful level or a lower one. I find the whole 3D very challenging and well done.
I have bought the game from the first minute on it's release, but I can't find my way finishing the first zone. I got to zone 1-5, but died there and noticed my highest score rank was almost better than the highest of 40, 000 made by "M.Nakamura" who also got to Area 01-05. So, I thought I should wait to get further before posting my opinion already, but I don't think there are a lot of waves out there in the whole game. But again, the whole game is really tough and fun. Too bad, the BGM background music is really.. really.. brainwashing.
So what do you think?